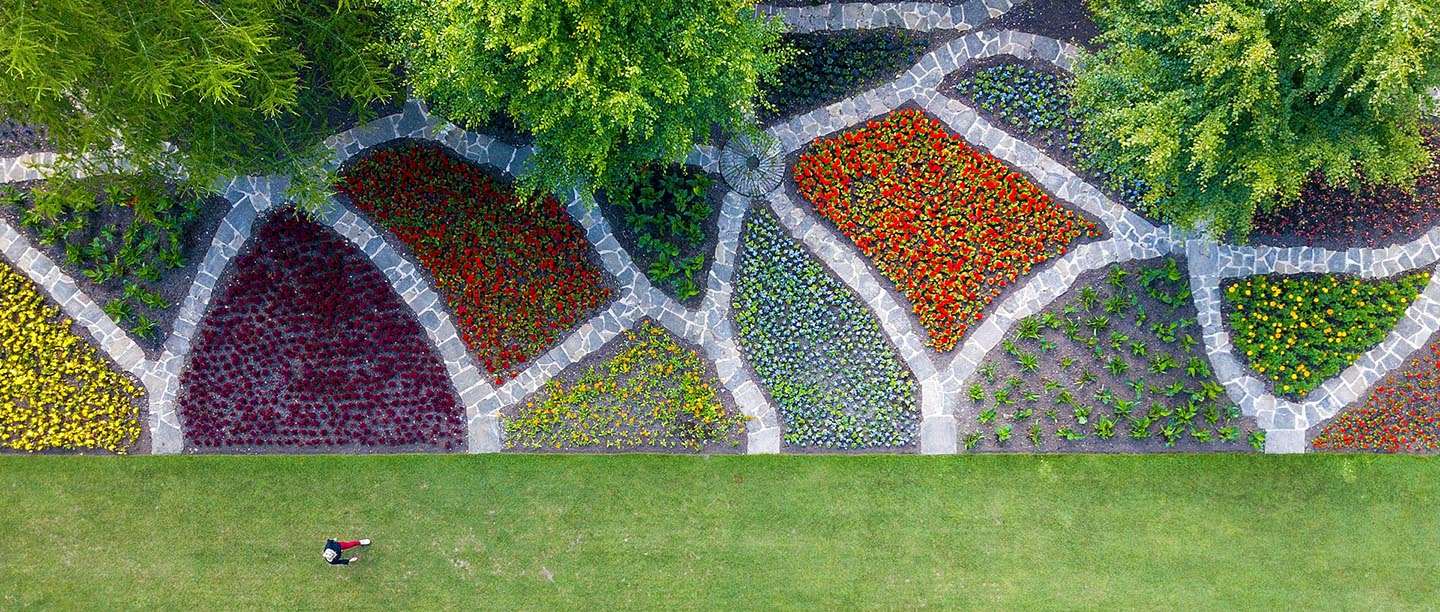 Historic Gardens
From sweeping vistas to organic vegetables, English Heritage cares for a number of historic gardens and landscapes around the country.
Learn more about the history of gardens through the ages, including those created by Lancelot 'Capability' Brown - the 18th century pioneer who radically changed the world of landscape gardening.
Summer Garden Highlights
From the afternoons Queen Victoria spent painting landscapes at Osborne to the 19th century loos built in Brodsworth's backyard, discover how our gardens have been shaped by history.
This summer, take a walk through our historic gardens as sweet smelling roses, royal myrtle and freshly clipped topiary tell a sensory story from the past. You can even pack a picnic and feast among the flowers like our ancestors might have done.
Find a garden
Podcast: Belsay Awakes
Join head of English Heritage's gardens and landscape team, John Watkins, and acclaimed landscape designer Dan Pearson, for a combination of history and horticulture as we find out about the planned transformation of the gardens at Belsay Hall in Northumberland.
Discover the history of the gardens, the plans to bring them back to their blooming best, and the wider project to transform the visitor experience at this spectacular site.
Stories
from England's gardens
Gardens Through Time

Use this timeline to trace the evolution of gardens in England, from medieval monks to Capability Brown and William Morris.

Weeding Women: Shaping England's Gardens

Until the late 19th century professional gardeners were always men. However, this does not mean that England's gardens were only shaped by male hands.

Gardens Conservation

English Heritage looks after many nationally important historic gardens and landscapes. Discover how our experts care for these special outdoor spaces.
How to Make Soup
Watch as Mrs Crocombe, the Victorian cook, shows you how to make a light soup the Victorian way using rhubarb from the kitchen garden at Audley End House. You can discover more of her recipes by visiting our YouTube channel.
Watch on YouTube
Shop the Rose in Bloom Collection

Inspired by Wiltshire based artist Caroline Day's "Seize the Moment" oil painting, this range of gifts was created to celebrate the beauty of flowers and is perfect for gardeners, nature lovers and art enthusiasts alike.

Days out with Dogs

Enjoy a great day out with your dog at an English Heritage property. There are plenty of dog-friendly sites across the whole of England for your furry friends to enjoy.

Become a Member

Start a year of adventure. An English Heritage membership offers an unlimited annual pass to over 400 historic sites across the country.