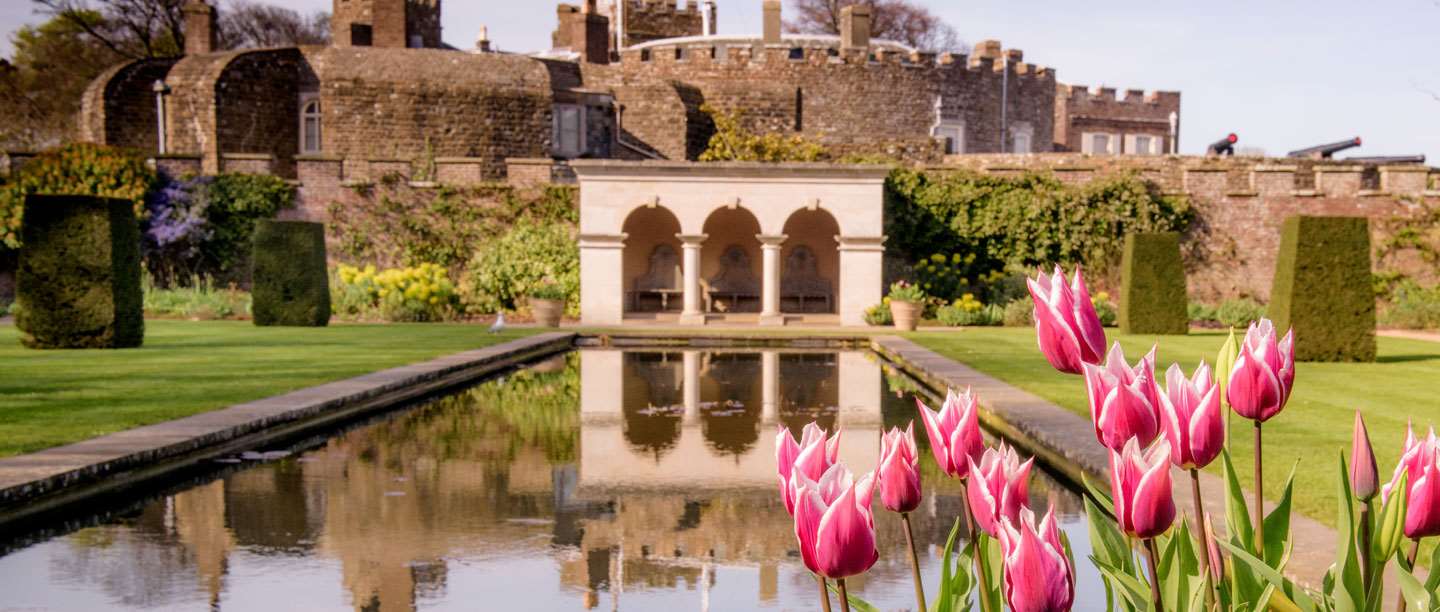 Exclusive Members' Area
Welcome to this dedicated space just for Members, where you can explore our sites and their stories through articles, videos and podcasts. You'll also find help for home learning and plenty of content just for kids.
OPENING UPDATE | You no longer need to book your ticket in advance, but you can guarantee entry by booking online ahead of your visit. You can still turn up without a booking though, and we have extended our summer opening hours at some of our most popular sites. See which sites will have extended opening hours here.
As a Member, you are helping to keep England's story alive throughout this difficult time. Thank you for your patience, understanding and support.
Highlights this week
Best Days Out in History
A jouster, a jester, a knight, a WWII warden and a Roman soldier. These are the History Makers and they're waiting for you at sites all over England this summer. We visited these passionate and dedicated reenactors at their homes, from mid-Wales to the East Midlands, to see how they've been preparing to return to work at the most unusual of jobs.
From Viking battles to jousting knights, and from Victorian falconry to feasts of fun for all the family, there's so much to see and do at our historic places throughout the summer months. Who knows, you might even meet one of our History Makers!
Book tickets
Meet The History Makers

We go behind the scenes with five of the re-enactors taking part in our summer events. Find out what inspired them to become re-enactors and what it takes to do such an unusal job.

Which history maker are you?

Which History Maker are you? Take our kids quiz to see whether you're mostly jester or ARP warden, less knight or more jouster – or you might even be a Roman Soldier!

New Cycling Guides

Our cycling guides offer a fun way to take in multiple sites this summer. Wheel your way across the Isle of Wight, find serenity in North Yorkshire, or tour the Wiltshire countryside.

History of the Olympic Games

Join Time Will Tell Theatre to discover how the ancient Olympics were born as a tribute to the god Zeus, before evolving into the Modern Olympics we know today.
History for Kids
Are you ready to go back - way back - in time to learn all about England's history? Read our magazines and discover our online pages where you can explore each of the key periods, from the Stone Age right through to the Second World War. Find out what life was like at the time through fun facts, illustrated stories, games and more.
Explore our history for Kids
THE ENGLISH HERITAGE PODCAST
Step into England's story with our weekly podcast. Join presenter
Charles Rowe as we bring the history of our sites to life with news, views and expert interviews.
This week we're looking at Gainsborough Old Hall.
Listen now
Postcards from places we love
Thanks to your membership and support we are able to look after and protect over 400 historic sites across England. Each has its own unique architecture and a story to tell. In this video series, you'll be captivated by the stunning footage of our sites from the skies as we offer you a glimpse of what each has to offer. Sit back, relax and prepare to be inspired.
Watch the whole series
Belsay Hall, Castle and Gardens
Get Quizzing
From Stonehenge to Queen Victoria, test your history know-how with our quizzes. Whether just challenging yourself or hosting a virtual quiz with family and friends, we've got your history rounds covered. We've even got quizzes just for kids!
The latest quiz is the July 2021 Members' Magazine 20 Questions Quiz, all about our coastal sites.
Discover our quizzes
How England Was Made
Episode 4: Stott Park Bobbin Mill
In our How England Was Made series, presenter Rob Bell explores significant locations from England's industrial history, accompanied by one of our expert historians.
In the fourth and final episode, presenter Rob Bell visits a mill that played a surprisingly key role in England's textile industry in the 19th century. Nestled on the shores of Lake Windermere in Cumbria, Stott Park Bobbin Mill produced millions of wooden bobbins vital to the Lancashire spinning and weaving industries. Join Rob and Senior Curator Kevin Booth as they explore the role of the humble bobbin and the story behind the only working bobbin mill left in the Lake District today.
Episode 1: Neolithic Mines

Historian Susan Greaney gives Rob Bell a guided tour of Grime's Graves in Norfolk. This Neolithic flint mine is evidence of early industry, from production to trade, even though the site itself is very unassuming.

The Iron Bridge combines aesthetic beauty with practical usage, allowing for safe passage across the River Severn. Rob discovers more about the site with Head Collections Curator Matt Thompson.

Episode 3: Derwentcote Steel Furnace

On the outskirts of Gateshead, Derwentcote is the earliest steelmaking furnace in Britain. Senior Properties Curator Mark Douglas and Rob discuss the history of steelmaking in the Derwent Valley.
History Discovered
Our expert historians and curators provide the most up-to-date insights, unveiling the secrets of some of the most important historic sites in the country. We invite you to step into England's story with historical articles and features created especially for you.
More history discovered
Close ups

We care for thousands of artefacts and monuments – such as the Lord's Prayer Ring at Ranger's House. Get up close and find out what makes these items so important.

Meet the Experts

Our experts help us to bring to life the fascinating stories of our sites. Meet some of those 'in the know' as they share their knowledge and experiences with us.

Past Lives

From a captive queen and a reggae superstar to the father of the NHS and pioneering dentist, discover the inspiring stories of the people who shaped our country's past.
Members' magazine
Members' Rewards
Enjoy savings on flowers for your home and garden, money off subscriptions for magazines and books and even update your wardrobe for less. Choose from over 60 offers on food and drink, entertainment, home and garden and much more. The savings you make could even cover the cost of your annual membership.
Discover your rewards
MANAGE YOUR MEMBERSHIP
Register your membership or log in now to renew your membership, update your personal details and find out anything else about your membership. You can also explore the wider benefits of membership, including discounted offers from our Associated Attractions and our range of exclusive Members' Events (currently not available during the lockdown period).