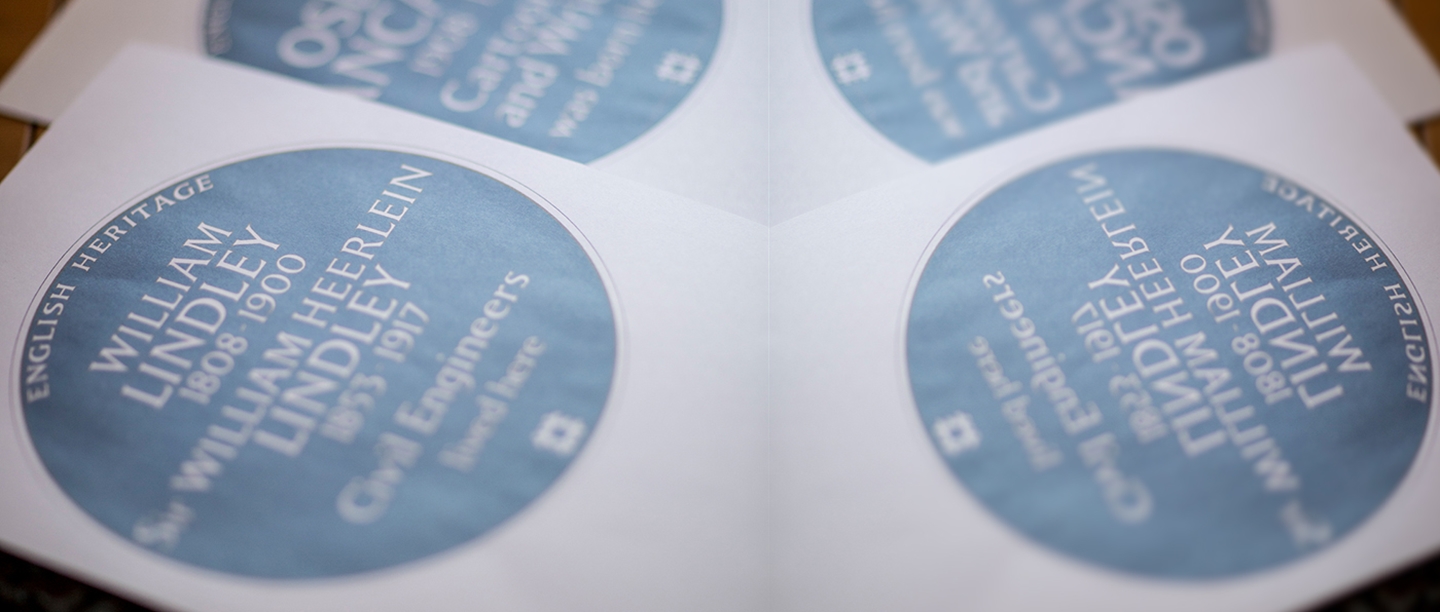 Propose a plaque
Since it was founded 150 years ago, the London blue plaques scheme has been driven mainly by suggestions from the public. Commemorative plaques appeal to people of all ages and backgrounds in London, to residents and visitors alike. We welcome interesting and viable proposals for London blue plaques to celebrate prominent individuals and mark other significant historical associations.
First Steps
Before proposing a new blue plaque, it's worth checking a couple of things first.
Only one plaque is erected per person, so start by checking our searchable list of plaques to ensure your candidate hasn't been commemorated by a plaque in London yet.
If there isn't already a plaque, get in touch with us at plaques@english-heritage.org.uk, briefly outlining your idea so that we can advise on whether it is already being considered, or has been turned down. If it has been turned down, ten years must have passed before we can consider the proposal again.
Search for an existing plaque
Selection Criteria
Before going on to send us a detailed proposal, there are a few other criteria to consider.
At least 20 years must have passed since a candidate's death.
At least one building associated with the figure must survive within Greater London (but outside the City of London, which has its own scheme).
The building must survive in a form that the commemorated person would have recognised, and be visible from a public highway.
Buildings with many personal associations, such as churches, schools and theatres, are not normally considered for plaques.
No more than two plaques are allowed on one building.
Nominations to commemorate buildings that have historical significance for an event, or a group of individuals, will be considered as resources allow.
Nominations are subject to thorough historical research and discussion, and English Heritage's Blue Plaques Panel of experts meets three times a year to decide the shortlist. Proposals may be turned down for many reasons, for example if a subject's historical significance is felt to be insufficiently clear, and if the connection to a surviving London building is not strong enough.
We receive many more suggestions than can be approved given the resources available, so the process of shortlisting is highly selective. You can download a PDF of the full selection criteria for more information.
Researching Your Candidate
When nominating, please supply as much information as possible to support the authenticity of the building as a place related to your nominee. By 'authentic' we mean that it needs to have been inhabited by the person.
The first port of call for address information is normally a biography – including entries in the Dictionary of National Biography – or an autobiography. More detail can be obtained from such sources as electoral registers, Post Office directories and census returns. Many of these are available online on sites such as ancestry.com and findmypast.co.uk, which can be accessed free of charge from many public libraries and local archives.
Please supply as much information as you can about addresses, including dates of residence and any interesting detail about the person's links to a particular building. While we will thoroughly research cases ourselves, it is helpful to have as much information as possible from the outset.
Submitting Your Nomination
Please download the PDF form using the link below. You can type directly into the boxes and save your changes to your computer by clicking 'save as' under the 'file' menu.
Please send the completed form as an email attachment to blue.plaques@english-heritage.org.uk or post it to the Blue Plaques Team, English Heritage, 6th floor, 100 Wood Street, London, EC2V 7AN.
We look forward to receiving your suggestion.
Download the Form
What Happens Next?
Once we shortlist a nomination, it usually takes two to three years for a plaque to go up. This is because there is a rigorous two-stage research process – there is a shortlist of names to work through, and the consent of the building owners has to be secured. Listed building consent may also be needed.
The plaques themselves are unique pieces, handmade by dedicated craftspeople. They are kiln-fired twice, which means that their manufacture takes several months.
Other Schemes
Many other groups erect their own plaques, often using different criteria from English Heritage.
If your nomination for a blue plaque is turned down, you could consider approaching other schemes run by local authorities, such as Westminster City Council's Green Plaques scheme. Other active schemes include those run by the Heritage Foundation – which puts up plaques to figures who worked in entertainment – and the Nubian Jak Community Trust, which commemorates prominent black historical figures.
English Heritage has compiled a register of other schemes across England, updated up to 2013 (you can download the register as a PDF). Your local council or borough archive may hold further information on specialist societies which support the installation of plaques and other forms of local commemoration.
A detailed guide for groups and individuals considering a private plaque or starting a new scheme, Celebrating People and Place, is also available for download, in Part 1 and Part 2.
The Blue Plaques Panel
The role of the Blue Plaques Panel is to advise and support staff working on the English Heritage London blue plaques scheme. The panel meets three times a year to consider public suggestions for commemorative plaques, and to offer detailed input on those selected for commemoration.
Find out more about the blue plaques panel