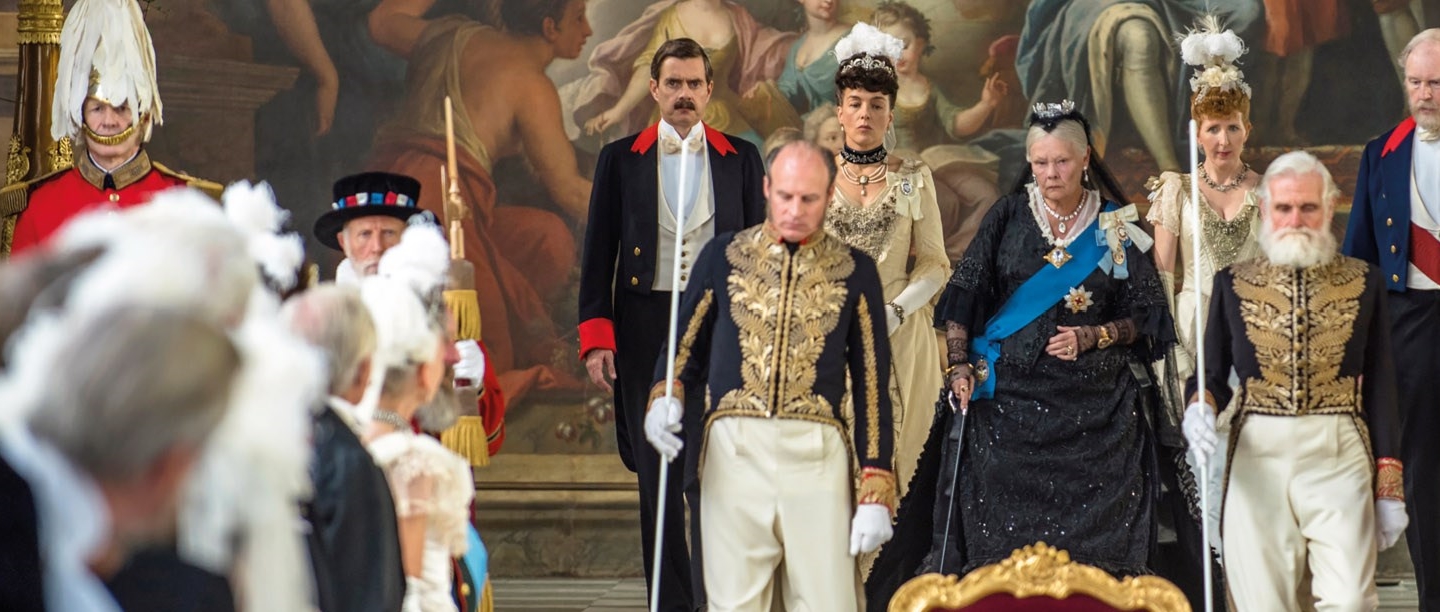 Filming Locations
Our historic sites have been used to provide unique and authentic backdrops for numerous films, photo shoots and television shows.
Contact Filming Enquiries to find out more about hiring one of our locations for a shoot.
HIRING OUR SITES FOR YOUR NEXT PROJECT
English Heritage cares for over 400 historic sites across the country, and each and every one of them is ready to welcome your filming or photography project.
From mysterious stone circles to mighty medieval castles, from grand Georgian houses to Victorian gardens, and from icons of the Industrial Revolution to chilling relics of the Cold War, our unique and flexible locations offer you endless possibilities. And, thanks to our nationwide collection, we can help you find the perfect location whether you're creating a series on the Cornish coast or shooting a film in the Cumbrian hills.
Discover below just a few of the previous productions that feature many of our sites. Seen something of interest? We'd love to hear from you! Contact our Venue Hire team at Filming.enquiries@english-heritage.org.uk or by calling 0300 020 0017
Find your next filming location
THE BIG SCREEN
Bridgerton, Netflix, Season 1-3, (2020-2023)
Ranger's House plays a starring role in the Netflix popular television series, Bridgerton. As the facade of the Bridgerton family residence, Ranger's House is an authentic Georgian backdrop with a history every bit as fascinating as the Netflix hit drama.
The Crown, Netflix, Season 1-3, (2020-2023)
Eltham Palace was used in 2016 as a location by Netflix's Golden Globe-winning series The Crown, which documents the early reign of Elizabeth II and stars Claire Foy and Matt Smith. Other scenes (including in later series starring Olivia Colman as the queen) were filmed at Audley End House and Gardens and Dover Castle.
Batman vs Superman: Dawn of Justice (2016)

The Georgian mansion of Sutton Scarsdale Hall featured in this Warner Bros movie as the charred remains of the famous Wayne Manor.

Belle (2013)

A film based on the story of Dido Elizabeth Belle, who lived at Kenwood, so it's only right the film should have shot some scenes there too.

Darkest Hour (2017)

A room at Brodsworth Hall and Gardens featured as a Downing Street bedroom to host a meeting between Winston Churchill and King George VI.

The Death of Stalin (2017)

Several areas of Wrest Park featured in Armando Iannucci's satire about the scramble for power following the death of Joseph Stalin. The drawing room doubles as the Hall of Columns, while the garage hosts a trial.

Elizabeth (1998)

Starring Cate Blanchett in the title role, Elizabeth used Aydon Castle as the location for both a torture chamber and the apartment of Elizabeth's aide, Sir Francis Walsingham. Scenes were also filmed at Warkworth Castle.

Jane Eyre (2011)

Just one of the adaptations of Charlotte Brontë's Jane Eyre to feature an English Heritage property, this version (starring Mia Wasikowska, Michael Fassbender and Jamie Bell) included Wingfield Manor as the remains of Thornfield Hall.

Mansfield Park (1999)

Kirby Hall was used in the 1999 film version of Mansfield Park by Jane Austen to represent the house owned by Sir Thomas Bertram at the heart of the story. Some scenes were also filmed at Kenwood.

Robin Hood: Prince of Thieves (1991)

Robin (Kevin Costner) gives directions to Azeem (Morgan Freeman) at Sycamore Gap, which is near Housesteads Roman Fort. Also featured in the film is Old Wardour Castle in Wiltshire.

Stan & Ollie (2018)

Scenes of Stan Laurel and Oliver Hardy's Hollywood dressing room were actually filmed at Eltham Palace and Gardens in this biopic starring Steve Coogan and John C. Reilly.

Transformers: The Last Knight (2017)

Stonehenge was one of two English Heritage sites that were selected as locations – Rievaulx Abbey was also used to provide backdrops.

Victoria and Abdul (2017)

This is the first film to feature the interiors of Osborne – Queen Victoria's Isle of Wight holiday home appears in a significant portion of the movie.

Wonder Woman (2017)

The first action movie to film at Tilbury Fort saw it transformed with a large set in the parade ground. The fort was also a key location in BBC drama Taboo.
A-Z of previous film productions featuring our sites
Catherine Called Birdy (2021), Stokesay Castle
Downton Abbey: A New Era (2022), Wrest Park
Dracula (2020), Whitby Abbey
Hamlet (1990), Dover Castle
Into the Woods (2014), Dover Castle and Waverley Abbey
King Arthur (2004), Stonehenge
Mrs Brown (1997), Osborne
My Lady Jane (2023), Dover Castle
Nanny McPhee Returns (2010), Marble Hill House
Notting Hill (1999), Kenwood
Onegin (1999), The Grange at Northington
Peterloo (2018), Gainsborough Old Hall and Tilbury Fort
Testament of Youth (2014), Brodsworth Hall and Gardens
The Huntsman: Winter's War (2016), Waverley Abbey
The Kid Who Would Be King (2019), Tintagel Castle
The Mummy (2017), Waverley Abbey
The Other Boleyn Girl (2008), Dover Castle
The Thirteenth Tale (2013), Brodsworth Hall and Gardens
Tulip Fever (2017), Tilbury Fort
Venus (2006), Kenwood
Wonka (2023), Eltham Palace
A-Z of previous TV productions featuring our sites
Belgravia (2020), Wrest Park
Brideshead Revisited (2008), Eltham Palace and Gardens
Coldplay live performance (2021), Whitby Abbey
Dracula (2020), Whitby Abbey
Gentleman Jack (2020-21), Rievaulx Abbey
Horrible Histories (2022), Eltham Palace
King Lear (2018), Dover Castle
Outlander (2014), Carlisle Castle
Queens that Changed the World (2023), Osborne
Scarborough (2019-20), Scarborough Castle
SS-GB (2017), Tilbury Fort
Taboo (2017), Tilbury Fort
The Royals (2015–18), Wrest Park
The UnXplained with William Shatner (2021), Tintagel Castle
Trust (2018), Audley End House and Gardens
Vanity Fair (2018), Marble Hill House
Victoria (2016–), Brodsworth Hall and Gardens and Osborne
Wolf Hall (2015), Bradford-on-Avon Tithe Barn and Dover Castle
Our Locations
With over 400 sites to choose from English Heritage can provide a diverse portfolio of locations available to hire for commercial filming opportunities across the country.
With historically authentic locations ranging from prehistory to the present day, we are sure to be able to provide you with a great selection of film friendly options for all varieties of commercial filming.
See all the locations and properties that are available to hire for film, TV and photography. Click on our locations map to view all.
The size of the property (Ranger's House) fitted the brief perfectly as it feels grand, yet it has a welcoming quality that is not always the case with period houses of this size.
Paul Tomlinson, Supervising Location Manager for Bridgerton
English Heritage were fantastic to deal with over the filming of Coldplay at Whitby Abbey. As such an iconic site, English Heritage displayed a real 'can do' attitude to the ever-growing production requirements to film one of the biggest bands in the world, with incredibly high production values.
Rhys Hughes, Head of Live Music and Events for the BBC
We had an absolutely marvellous time shooting our documentary drama inserts for BBC Studios' Countdown to Abdication series at Eltham Palace in early 2023. Thank you so much to the whole team for making it possible. Eltham really is a stunning location - an absolute gem.
Marion Milne, Series Director for the BBC
The English Heritage Staff at Dover Castle are people who clearly love what they do and this made our shoot day so much easier.
Be inspired and get in touch