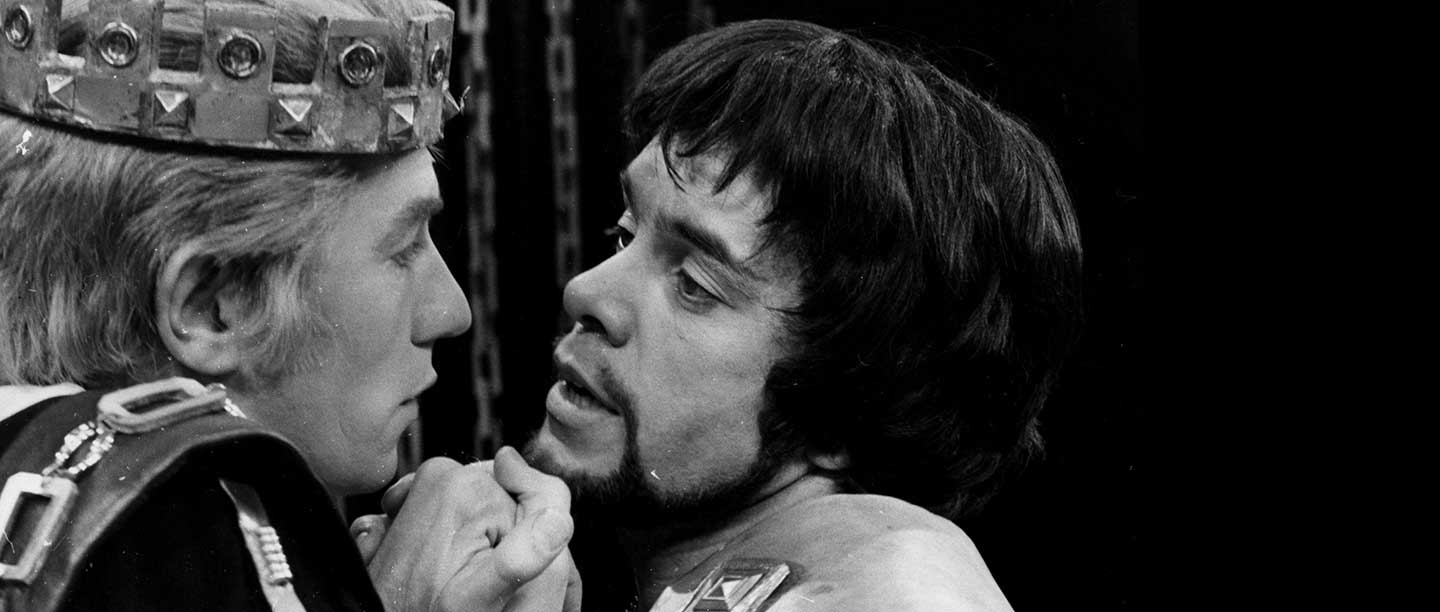 LGBTQ+ History
Individuals throughout history have lived radical private lives outside the accepted sexual and gender norms of the time. However, LGBTQ+ history is often hidden from view. Expression of same-sex love and gender non-conformity has been constrained by both repressive social attitudes and criminal persecution. The few first-hand accounts made of LGBTQ+ experience were often destroyed for self-protection.
By uncovering the LGBTQ+ stories that have survived, researchers can start to represent the true diversity of sexuality and gender in the history of England. Find out more about the lives of England's LGBTQ+ people and their important place in the stories of English Heritage sites.
Image: Ian McKellen and James Laurenson as Edward II and Piers Gaveston © Central Press/Getty Images
LISTEN TO OUR PODCAST:
PRIDE OF PLACE: UNCOVERING LGBTQ+ HISTORIES AT OUR SITES
We're joined by English Heritage's Head of Learning and Interpretation Dr Dominique Bouchard and Interpretation Coordinator Nick Collinson to discover the stories of Lord Beauchamp, Anne Seymour Damer, Virginia Woolf and Radclyffe Hall, and learn more about what we're doing to share more stories of LGBTQ+ people at our sites.
Listen Here
Stories of England's LGBTQ+ Past
Talking about LGBTQ+ history
The terms we use today to describe a range of sexualities and gender identities – lesbian, gay, bisexual, transgender and queer – are mostly quite recent inventions. For the most part, we simply don't know how people in the past would have described their sexuality or gender. We use the acronym LGBTQ+ because we believe it comes closest to capturing the breadth of experiences and identities for those whose sexualities didn't fit within societal norms.
The non-specific word 'queer' can also be useful when talking about sexuality and gender in history. We know that for some it has negative associations – historically it has been used derisively as well as for self-identification. However, the Oxford English Dictionary reports that from the late 1980s, 'queer' started to be reclaimed as a neutral or positive term. It is now used to capture the complexity and fluidity of sexuality and gender, with the intention of including all experiences and identities rather than defining and limiting them. It is in that spirit of inclusivity that we use the term 'queer'.
Out at Ranger's House
An LGBTQIA+ tour
The Wernher Collection at Ranger's House, in London, is one of the greatest surviving private art collections ever assembled in Europe.
Out at Ranger's House is an LGBTQIA+ tour of the collection developed by young producers as part of Shout Out Loud, our national youth engagement programme. The tour illuminates the LGBTQIA+ stories of the artists, the people who commissioned or owned the works, the figures represented within them, or their appropriation by the LGBTQIA+ community – traversing thousands of years of history from classical myth to modernity.
The tour is self-guided via a booklet available on site. Pick one up on your next visit to Ranger's House.
Read more about the project

The Out at Rangers tour was created by our Shout Out Loud Young Producers. Learn more about the project on their website here.

Join Dr Dominique Bouchard and Nick Collinson at Ranger's House in London as they discuss the LGBTQ+ connections of some of the fascinating objects there, part of the Wernher Collection.

In this podcast episode we hear from Senior Interpretation Manager Nick Collinson, Properties Historian Andrew Roberts and Young Producer Katie Burke to learn more about the LGBTQIA+ tour at Rangers house.
Our Queer History Zine

Read the thoughts and conversations that arose from a youth-led project exploring the queer heritage of Brighton & Hove.

Watch the documentary about the 2019 play, 'Our House', that explored the queer history of Eltham Palace.

'A Visitor of Mrs Damer': Queer Circles in Elite Georgian London

From the Shout Out Loud blog written by our young producers and placements: we explore female sculptor Anne Seymour Damer and her network of friends, to reveal a broader picture of elite queerness in Georgian London.

Queer History Month

In this blog post we hear from one of our young project participants on their thoughts on Queer History Month and the Our Queer History project – an eight-week youth-led project looking at queer history in Brighton and Hove.
London Pride
Of the hundreds of individuals honoured with London blue plaques, many have lived radical private lives outside the accepted sexual norms of the time, from Oscar Wilde to Virginia Woolf and Alan Turing.
Some were persecuted for it and some helped to challenge public perceptions of gender and sexuality. Explore the stories of some of London's famous LGBTQ+ residents through our blue plaques scheme.
Explore London's LGBTQ+ stories