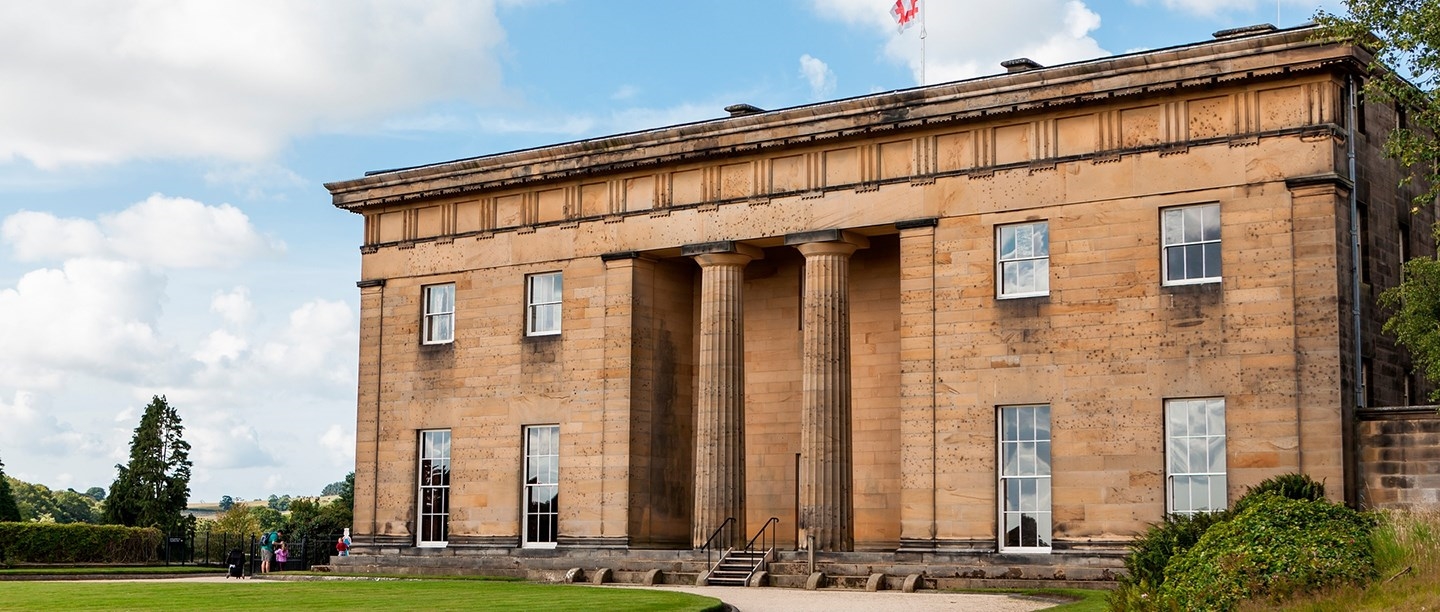 Spotlight on Belsay Hall, Castle and Gardens
Set into the picturesque landscape of Northumberland, Belsay has three distinct elements: a medieval castle, a Greek Revival mansion and acres of lush gardens which make for a fascinating day out - especially if you're a keen photographer.
The Belsay estate has been a family creation for over seven centuries - a legacy which continues today.
Why I Love Belsay
"On a personal note, Belsay is very special to me because my dad worked here (also as Head Gardener) for a long time, but I can honestly say I love getting up in the morning and coming in. We've got a huge collection of plants, a lot of them very rare including one of the biggest collections of rhododendrons in the country.
"There's myself and five lads that manage 40 acres of garden, it's very hard work as you can imagine! It doesn't matter what time of year you come - there's always a 'wow' factor.
"There's one tree that's quite special to me, a Katsura tree - Cercidiphyllum japonicum - that's beautiful in the autumn. When the leaves start to drop, it smells like candy floss and the fragrance is carried for miles." - Sarah-Jo Harrigan, Head Gardener
Plan your visit
Did You Know?
Belsay's gardens are so important that they're Grade 1 listed. The Quarry Garden was inspired by Sir Charles Monck's travels in the Mediterranean - and has its own microclimate which allows all sorts of exotic plants to grow. Jo explains what goes into taking care of them:
"It's Grade 1 listed, so it has to be kept to that standard. The only way we can do that is by having programmes of work and following them religiously. I've got a really good group of lads, they work very hard.
People think in the winter time that we sit in the mess room, have a cuppa tea, and dunk a digestive - but that's not the case. We're always out there, alway working on projects and keeping it to the standard that it should be."
Take a Closer Look: A Blank Canvas
Belsay Hall came to us unfurnished, and keeping it bare of furniture is part of the conditions of being able to open it for visitors. We see the Hall as a fantastically evocative blank canvas, and over the past twenty years have used the space to hold several creative exhibitions.
Past contemporary art, fashion and design exhibitions have included 'Fashion at Belsay' in 2004 (which feactured installations from Alexander McQueen, Stella McCartney and Zhandra Rhodes), 'Picture House' in 2007, 'Extraordinary Measures' in 2010 and 'Outside In' in 2016.
More events at Belsay
What Makes Belsay Special?
The Hall - this part of Belsay was built by Sir Charles Monck, who was obsessed with ancient Greece, between 1807-17. Details of the interior were inspired by his honeymoon in Athens - these are easy to pick out, not least because the house is unfurnished purposefully to reveal the fine craftsmanship that went into building it.
The Castle - the medieval castle was first recorded as being owned by the Middleton family in 1290. You can still climb up part of the 14th century tower and the grounds by the castle are where many of our events are held today - including our knights tournaments.
The Gardens - there are 40 acres of gardens to explore, but undoubtedly the most magical are the Quarry Gardens. Although a path winds through it, you get a real feeling of exploring amidst waving ferns, towering trees, and exotic plants that grow on every side.
Things to see and do
3 top spots for photographers
From the terrace, looking towards to Rhododendron Garden
From the end of May until July is when the three acres of hardy hybrid rhododendrons come into flower and it's phenomenal. The view from the Terrace is a favourite with photographers for the view down over the rolling landscape.
In the Quarry Garden, snapping rare plants and Romantic arches
Belsay's Quarry Gardens are quite unique. Because of the protective Scots pines and yews planted above it, it's got its own microclimate. As soon as you go into that area of the garden, it's like a tropical wilderness. As well as the dramatic picturesque arches and doorways, look out for the giant rhubarb gunnera manicata in the bog garden - its leaves grow to the size of the small tables.
The architectural climax of the Belsay, the two-story Pillar Hall is meant to evoke a classical villa. Everything is carved from warm coloured stone, with natural light streaming in from roof lights. All the main rooms lead off from here, so you can play with perspectives and distance.
Blog: The Secret Gardens of Northumberland

Historic Gardens

A weekend on the Northumberland Coast

Members get More