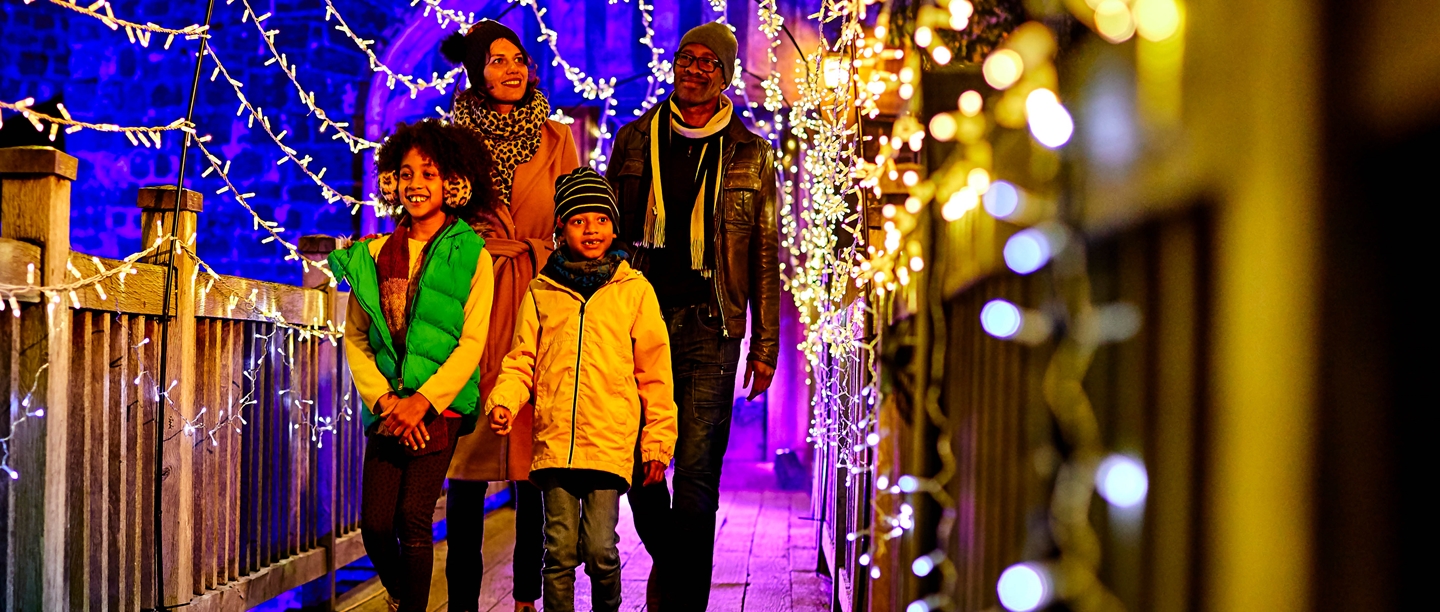 Christmas
This Christmas prepare for dazzling new light trails at some of our most popular sites and experience sprawling grounds and historic gardens bathed in a magical world of illumination, sound and colour. There's something for the whole family with festive fun at our Father Christmas events or try your hand at wreath-making that's sure to get you into spirit.
Before your visit, explore this page and discover the history behind some of your favourite traditions, from gift-giving, Christmas cards and more.
Christmas Events
Gather your friends and family this winter and experience the past in a spectacular new light. Celebrate Christmas with brand new, interactive light trails at some of our most popular properties. Brought to you by our event partner Kilimanjaro Live in association with English Heritage, get ready for colour, lights and play this December.
Marvel at the historic buildings being bathed in light as you warm up with a glass of mulled wine and toast a marshmallow under the night sky. You can also stock up on Christmas gifts and tasty treats in our shop.
Festive Stories with Father Christmas
Father Christmas is taking time out of his busy festive schedule to tell some of his favourite seasonal stories around the Christmas tree, in our group storytelling sessions. Then, you and your children will get the chance to meet the man himself, take photographs and make memories to treasure, as children receive a traditional present to unwrap.
Brodsworth Hall: Wreath-Making Workshop
Join the Brodsworth gardening team and make your very own festive wreath using all natural materials from our gardens. Enjoy a hot drink and Christmas treat, whilst you make your wreath. It's sure to get you into the festive spirit!
Book your spot
Explore our sites this twixmas
Looking for new adventures this festive season? We've put together a list of sites that are perfect for exploring with the family, from mighty castles to famous abbeys, get planning days out that are brimming with history this Christmas.
You can find all of our sites open over the festive period here.
Find out more
Festive Feasting
Discover original recipes and the history behind your favourite Christmas dishes
From celebrating 500 years of the turkey, popularised by Henry VIII, to revealing the sometimes surprising history of festive food that has been reinvented and revived for centuries.
Inspired by original recipes, have yourself a merry Christmas with an authentic festive spread on the big day.
Make your own festive Tudor Toastie

Created in collaboration with sandwich-expert Max Halley, our Tudor Feast Christmas Sandwich takes its cue from the grand feasts enjoyed by Henry VIII on Christmas Day.

A History of the Christmas Pudding

Sam Bilton looks at the origins of the Christmas pudding, revealing some historical recipes to try at home, including medieval figgy pudding and a classic Victorian Christmas pudding recipe.

History of Gingerbread

From festively shaped biscuits to extravagantly decorated gingerbread houses, uncover gingerbread's medieval origins and significance in Queen Victoria's household.
What do elves have to do with Christmas?
Where does the mythology of elves come from, and why are they associated with Christmas? Professor Ronald Hutton traces the story of elves, from their prehistoric origins to the present day.
find out more
Christmas Through the Ages
Victorian Christmas Crafts
Christmas crackers, gilded walnuts, pin-prick cards and paper flowers
The Victorians popularised many Christmas traditions we know and love, decorating their homes just as we do today. Most of their decorations and gifts were made using household items and are surprisingly simple to make.
Watch our video and click on the links below to discover easy guides and templates to make your own Victorian Christmas crafts.