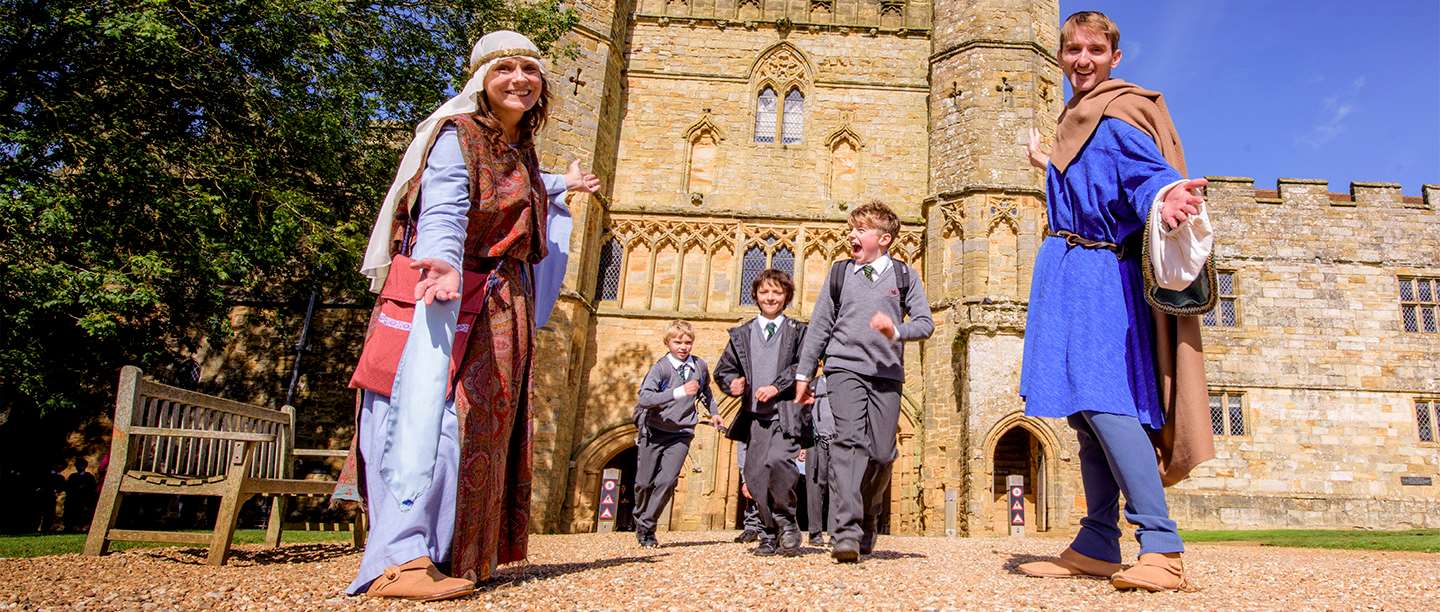 Your school trip questions answered
We're open again for school visits, but what's it really like planning a trip to one of our sites at the moment. We thought that the best person to answer this question is a teacher who has planned and enjoyed a trip to one of our sites. Read on to find out more about his experience.
UPDATE ON SCHOOL VISITS: We're taking bookings for education visits until 1 July 2021. We look forward to welcoming you and your class to our sites. Please note we are continually updating our offer to ensure we adhere to government guidance to make your visit as safe and enjoyable as possible. This might mean some parts of the site are inaccessible.
Please make sure you check our site pages from the list of properties on our what to expect on your education visit page, to see what facilities and resources are available during your school visit.
Paul Borrows is Assistant Head Academic at Vinehall School in East Sussex, where he teaches History and Geography to Years 7 and 8.
"One of my favourite things about my job is developing engaging and meaningful programmes of study. At Vinehall we have introduced a thematic curriculum for pupils in Years 7 and 8, with themes such as 'Conflict' and 'Climate Change' that reach across the curriculum. Our the intention is for pupils' understanding of contemporary issues to be informed by a coherent chronological narrative that will enable them to appreciate both their place in an ongoing story and the responsibilities they have when it comes to writing the next chapters. To give an example, for the theme of 'Equality and Rights', we start in 1215 with the sealing of Magna Carta before working our way forwards through history learning about De Montfort's Parliament, abolitionism, women's suffrage, the civil rights movement and LGBT rights. It is our hope that the children will appreciate and understand that history is not finished but continues to be shaped and re-interpreted with every passing minute."
We asked Paul about his experience visiting 1066 Battle of Hastings, Abbey and Battlefield this term.
What's your school been like since you've come back in September?
Everyone is having to adjust to new ways of working, but we've all been so impressed with the positivity of the pupils on their return, and it's wonderful for the school to be a hive of activity once again.
What attracted you to visiting an English Heritage site with your class this term?
In Year 7, the pupils follow a thematic curriculum, and this term, for the theme of conflict, we begin in 1066 with the Battle of Hastings and the Norman Conquest. It's obviously very convenient to have the site of the battle just down the road from the school, making it easy for us to visit Battle Abbey for a morning or an afternoon.
What did you want to achieve from your visit?
One of the main things we do when we visit is to talk through the events of 14th October 1066 whilst standing on the battlefield. To begin, I ask the children to look up the hill and imagine a great line of Anglo-Saxon warriors formed into a shield wall and wielding mighty battle axes. We then divide the children into Anglo-Saxons and Normans and recreate the main events of the battle, with the children taking on different roles. Doing this really brings the battle to life for the children, reinforcing everything they have learnt in the classroom.
We know that you're bound to have concerns about planning a trip, what were they and how did you get over them?
Schools always undertake risk assessments before going on trips to ensure that robust measures are in place to keep the children safe. For this trip, we went through the same process, but there were obviously further considerations due to the pandemic, such as regular use of hand sanitiser and ensuring transport arrangements were within government guidelines. We also needed to be confident that English Heritage were doing everything they could to ensure their sites were prepared for school visits. Early in the planning process, we were provided with a risk assessment by English Heritage 'Managing Education Visits during the Covid-19 Pandemic' which detailed all of the measures that had been put in place.
How did you communicate with the parents and students that you were running a school trip and what were their reactions to it?
In our letter to parents about the trip, we set out the measures that we were putting in place, such as asking the children to wear face coverings whilst travelling on the school minibuses to and from Battle Abbey. What made our visit more straightforward than other trips might be at this time, was the fact that the children were outside for the duration of our time at the site, making it easier to ensure social distancing guidance could be adhered to. Also, in the letter we emphasised the tremendous educational value of standing on the actual site where the Battle of Hastings took place and recreating the decisive moments in the battle, and the benefits of this were recognised by the parents.
When you arrived, how were you received by our site team? How did you and your students feel?
We were warmly received by the team, as always!
What activities did you plan for the day?
As we were keen to spend the majority of our time outside, we walked the battlefield and held our own 're-enactment' with the children.
What was the best bit of the trip?

Just being out and about again with the children in a different setting made the visit special. Having the opportunity to do that at a site of such historical significance was even better.
How did a visit support your teaching back in the classroom?

School trips are always a great way to help bring learning to life. The children are much more likely to remember the key events of the Battle of Hastings having recreated them on the battlefield.
Student wellbeing is very important – did you see the students benefit from a trip out to the site?

At the moment, we are trying very hard to keep things as normal as possible for the children, whilst at the same time following the government guidance for schools. Running school trips is just one way we can keep things normal and help to ensure our children's wellbeing.
What has the feedback from the students been following your trip?
The feedback from the pupils was very positive. One of our pupils said 'I really enjoyed getting to be Harold Godwinson, even if I did have to get shot in the eye at the end of the battle!'
Do you think your trip was worth the extra planning?

Yes, definitely!
Would you visit us again and would you recommend a visit to one of our sites to other teachers?

Yes, we would definitely visit again and would recommend taking children to English Heritage sites to help bring learning to life.