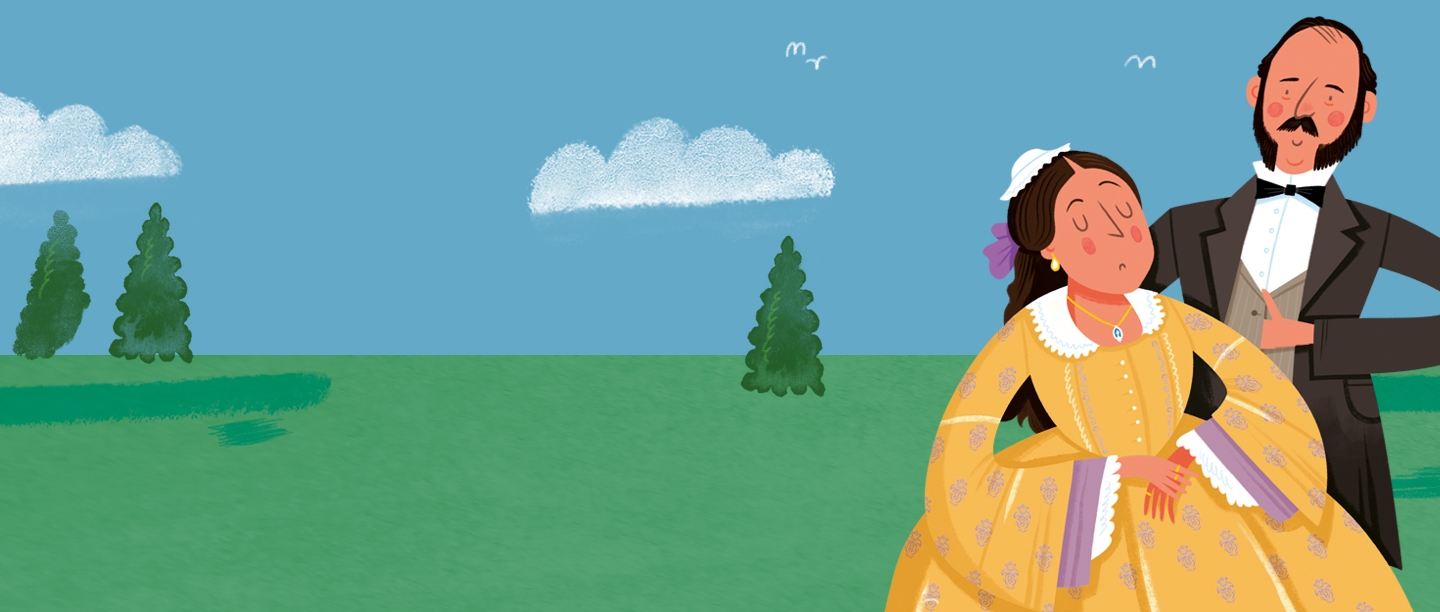 QUEEN VICTORIA'S STORY
From her marriage to Prince Albert and their family life at Osborne, to becoming a symbol of Britain across the world, Queen Victoria oversaw a period of huge change and gave her name to one of the great ages of English history – the Victorian age!
How much do you know about her life? Read on to explore some of the best bits from Queen Victoria's story...
Victoria's Early Years
Victoria was born at Kensington Palace in London, on 24 May 1819.
As a child, she was described as warm-hearted, lively, and occasionally a bit naughty. It's said she showed a natural gracefulness though, and often acted with remarkable dignity for her age. She also kept regular diaries at this time, a habit that continued throughout her life. Victoria was quite a private person, so these diaries have been key in helping historians to understand how she felt and what she thought.
Victoria was raised as a single child by her mother when, less than a year after her birth, her father Edward, Duke of Kent died. Her mother used a strict timetable of lessons to make sure Victoria became a clever and good person, as preparation for her becoming Queen one day. Victoria was under constant adult supervision, and she rarely got to interact with children her own age as a result.
Because of this, Victoria had a quiet and lonely childhood in Kensington Palace with her mother and a mostly German-speaking household. German was Victoria's first language, though she soon mastered English – and went on to learn French, Italian, Latin, as well as many Hindu and Urdu phrases. Impressive!
And did you know Victoria's name was actually Alexandrina? 'Drina' was a nickname when she was young, but she preferred her middle name – Victoria – and so decided to use that instead.
THE TEENAGE QUEEN
Victoria became Queen at just 18 years old, on 20 June 1837.
Shortly after her eighteenth birthday, Victoria was woken up one morning to be told that her uncle, King William IV, had sadly died and that she was now Queen of Great Britain and Ireland.
Her coronation took place at Westminster Abbey a year later in June 1838. As queen, Victoria was under a lot of pressure to do a good job. The royal family were not very popular at the time, and Victoria faced the difficult task of rebuilding the monarchy's reputation in the eyes of the British people.
Victoria was a tiny lady but she had a big personality: she was less than a metre and a half tall, but she was confident and always told people what she thought. Her ability to calmly handle the duties of a queen at such a young age won her admirers, though, and meant she was much more popular than the kings who had ruled before her.
And it seems so normal now, but did you know Victoria was actually the first member of the royal family to live at Buckingham Palace? She moved there shortly after becoming Queen. Even though it needed a lot of decorating at first, Buckingham Palace continues to be the home of the royal family in London today.
The Royal Relationship
Queen Victoria's relationship with Prince Albert might be one of history's great love affairs.
Victoria met her cousin, Prince Albert of Saxe-Coburg-Gotha, around the time of her 17th birthday. They became good friends and soon fell madly in love. After Victoria became queen, she decided to propose to Albert: that's because, at the time, Albert wasn't allowed to propose marriage to a queen.
Victoria and Albert married in 1840, and started a family later the same year. In the end, they had a whopping nine children together! They were – in age order – Victoria, Albert Edward, Alice, Alfred, Helena, Louise, Arthur, Leopold, and Beatrice.
Victoria hated being pregnant, though, which she called the 'shadow side' of married life. Each pregnancy took her away from her duties as Queen, which gave Albert more of a say in making key decisions.
Victoria's oldest son, Albert Edward – also known as Bertie - would later become King Edward VII. And eight of Victoria and Albert's nine children went on to marry into other royal families around Europe. This is why Victoria is sometimes known as the 'Grandmother of Europe'.
You can also thank Queen Victoria and her husband Prince Albert for your Christmas tree! They popularised many of the Christmas traditions we see today.
Life at Osborne
In 1845, Victoria bought the Osborne estate on the Isle of Wight and built a new mansion.
It was a seaside holiday home, where Victoria and Albert loved spending as much time as possible. They celebrated many special occasions at Osborne. On Queen Victoria's birthday each year a band played music under her window, often pieces composed by Prince Albert. Speaking of windows, Victoria is said to have loved the fresh air and often left all the windows open, even in Winter. Brr!
Albert took a keen interest in designing the gardens and wider estate, and lots of the planting today is to his designs. He's said to have directed tree planting on the estate using semaphore flags from the roof of the house!
Hidden away in the woods, nearly a mile to the east of the main house, they built a wooden Swiss Cottage as a private world for the royal children to play in and learn domestic skills. The children also had their own garden, and used to grow fruit, vegetables and flowers before selling them to Prince Albert for market prices.
Victoria and Albert even had their own private beach, where the royal children were taught to swim and they spent lots of time together as a family.
A Queen in Mourning
Sadly, on 14 Dec 1861, Prince Albert died at the age of just 42.
Prince Albert's death was unexpected and the impact of losing him was enormous. Albert had been everything to Victoria: a husband, friend, and – perhaps most importantly – someone she trusted to help her make decisions in ruling the country.
During their 21 years of marriage, Victoria and Albert had made the royal family popular again – they were the model example of an ideal family.
In her grief, Victoria was determined to remember Albert. She introduced a range of artistic and cultural monuments such as the Royal Albert Hall in London. It opened in 1871 and was built in honour of Albert's wish to have a place where people could enjoy the arts and sciences.
Victoria loved Albert very much but never recovered from his death. She was so upset in fact that she wore black clothes for the rest of her life – mourning for around 40 years.
The Royal Survivor
Did you know that Queen Victoria survived at least six attempts to kill her?
In 1840, an 18 year-old named Edward Oxford fired two shots at Victoria's carriage while the newly-wed Victoria and Albert were riding through London. Despite being only a few metres away, the shooter missed. The crowd leapt on him, and Victoria and Albert continued their journey, keen to act as if nothing happened.
In 1842, another would-be assassin, John Francis, made not one but two unsuccessful attempts to shoot at the Queen's carriage. A young man named John William Bean also tried to fire a gun at Victoria, but it was loaded with more paper and tobacco than gunpowder, and so his attempt failed too.
There were at least two more attempts in 1849 and 1850, including one where a mad British Army officer named Robert Pate even managed to strike the Queen with his cane. As the crowd leapt on the attacker, Victoria is said to have defiantly stood up and declared, 'I am not hurt'!
The last attempt to harm her came in 1882 as her carriage departed from Windsor Station. Boys from nearby Eton College came out to cheer for Victoria as she set out for Windsor Castle when a shot was fired. The boys whacked the shooter with their umbrellas before he was taken into custody. Victoria, once again, came away unharmed.
She was certainly a lucky lady. It only added to her appeal though: after each failed attempt, Victoria's courageous attitude made her even more popular with the British people.
The Royal Trendsetter
Technology in England changed a lot during Queen Victoria's reign.
In 1842, with steam-powered railways now spreading across the country, Victoria became the first British monarch to use trains to travel. Her first trip saw her journey from Slough station, near Windsor, to Paddington in a specially adapted royal carriage.
In 1857, Victoria and her family posed on the terrace at Osborne for the first ever official royal family photograph.
And then, in 1878, Queen Victoria joined Alexander Graham Bell in the Council Room as he demonstrated the telephone for the first time at Osborne; he made the UK's first publically witnessed long-distance calls, and Victoria was so impressed she wanted to buy it.
Her reign also saw the opening of the London Underground in 1864 – the world's first underground railway. But the first British monarch to actually travel on the tube was Queen Elizabeth II in 1969, when she opened the Victoria line (named after Victoria Station, which was named after Victoria Street).
The Symbol of a Nation
Victoria wasn't just the Queen. She was the symbol of the biggest empire in history.
At the time, Britain had an empire of countries including South Africa, Australia, Jamaica and many more. Over 400 million people across the world called Victoria their Queen. It was said that the 'sun never set' on the British empire due to the different time zones that it covered.
In 1876, Victoria was given the title Empress of India. The beautifully decorated Durbar Room at Osborne reflected Queen Victoria's status as Empress, as well as her growing fascination with India as a country. She was known to eat curry for breakfast prepared by her Indian attendants.
Abdul Karim was the first of Queen Victoria's Indian servants, and they became very friends. Within two years, he became the queen's Munshi (or teacher) and taught her some Hindi and Urdu phrases. The two would write letters to each other, and while this caused turmoil within the royal household, Victoria defended Abdul against all opposition.
Their fascinating friendship is portrayed in the 2017 film 'Victoria and Abdul' starring Dame Judi Dench and Ali Fazal. You can also take a behind-the-scenes trip to visit Osborne, where you can see where much of the film was shot including the stunning Durbar Room.
The Enduring Queen
Victoria was one of the longest reigning monarchs in England's history.
She ruled for a staggering 63 years. It was longer than any British king or queen before her. The nation celebrated both golden and diamond jubilees for Victoria – celebrating 50 years of her reign in 1887, and 60 years in 1897.
After a long and rather eventful life, Queen Victoria died at Osborne in January 1901 aged 81. She was buried beside her husband Albert at Frogmore Mausoleum near Windsor.
Victoria held the record as longest female monarch in history until September 2015, when her great-great-granddaughter – our very own Queen Elizabeth II – eventually surpassed her.
While Victoria may have been a small lady, she made a big impact and her legacy lives on: a symbol of one of the great ages of English history, and inspiration for the title of everything from lakes and streets, to mountains and cities around the world.