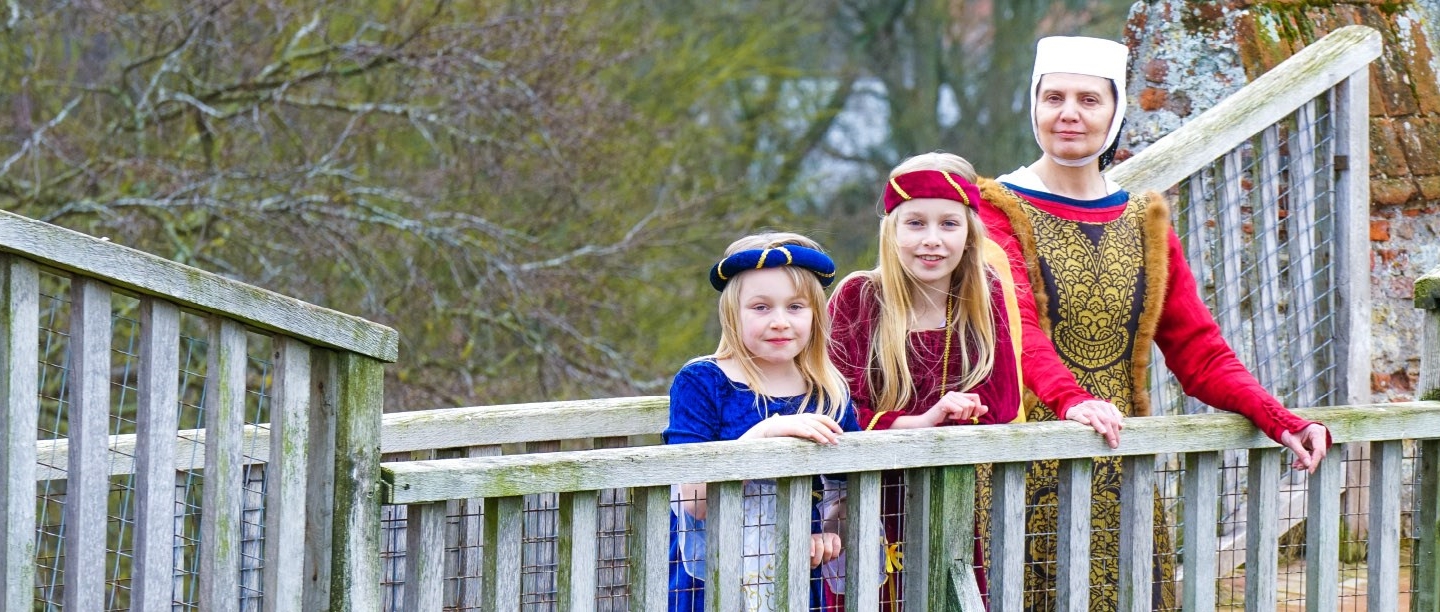 MEET a Medieval Noblewoman
We sent young Members Olivia and Felicity to Framlingham castle in Suffolk to interview former Duchess of Norfolk Margaret Brotherton, who lived here in the 14th century when she was one of England's wealthiest women.
Meeting Margaret Brotherton at Framlingham Castle

Olivia: What's it like to live in a castle?
It's a hive of activity, with people rushing here and rushing there, carrying out their various duties. I have a great many servants. I have a room right at the top of the castle, which has the most magnificent views across my estate.
Felicity: Are you very rich?
I am said to be the richest widow in all of England, with a landed income of £3,000 every year.
Olivia: How should a duchess behave?
It is your duty to maintain the great traditions of your heritage and to represent your family well by showing courtesy. For example, you must show excellent table manners, you must always place a napkin over your left shoulder or over your left wrist. You must never wipe your mouth upon your sleeve, that will never do.
Olivia: What are you most proud of?
Well, I am most proud of having lived a long and prosperous life. I have always known my own mind. I have always lived fearlessly. I have been persuasive in my time. I've had an interesting life, shall we say!
Who was Margaret Brotherton?
Margaret Brotherton was born in about 1320 and was the granddaughter of King Edward I. By the age of 15, she was already married to her first husband, John, Lord Segrave, a soldier and baron.
In 1338, Margaret and her sister inherited their family's land and property, including Framlingham Castle. After her first husband died in 1353, Margaret married again, this time to Lord Walter Mauny. But she had her land taken away for getting married without a marriage licence from the king. She was held prisoner in Somerton Castle in Lincolnshire but was pardoned in 1355 and had her estates returned.
After Lord Mauny died in 1372, Margaret spent the rest of her life (until her death in 1399) looking after her land. She lived in Framlingham Castle and hosted many feasts there. In one year, people in the castle ate 70,321 loaves of bread!
Image: A 14th-century feasting scene
© Bodleian Libraries, University of Oxford (MS Bodl. 264 fol 72v)
A castle fit for a queen
Framlingham Castle was built in the 12th century by the powerful Bigod family. The huge curtain walls were finished by Roger Bigod, one of the barons who made King John sign Magna Carta in 1215.
Framlingham Castle belonged to the Brotherton family in the 14th century, but the castle's most famous owner was Mary Tudor, the eldest daughter of Henry VIII. She inherited the castle in 1552 and a year later, after the death of her brother Edward VI, was pronounced Queen of England at Framlingham.
Changing Fortunes
During Elizabeth I's reign, Framlingham Castle was used as a prison for people who refused to follow the Protestant church. Forty people were held captive there in about 1600.
In 1635 a new owner, Sir Robert Hitcham, bought the castle. When he died a year later, he left instructions and money to create a workhouse for the poor. The workhouse provided education for children, work and a place for the poorest people in the community to live, until it eventually closed in 1839.
Visit Framlingham Castle
Framlingham Castle was a symbol of Margaret's wealth and power.
Visit the castle to see where this important medieval noblewoman lived and imagine what life would have been like for her almost 600 years ago. While there, walk along the wall, visit the workhouse and explore the exhibition to learn about the castle's history.
Plan your visit