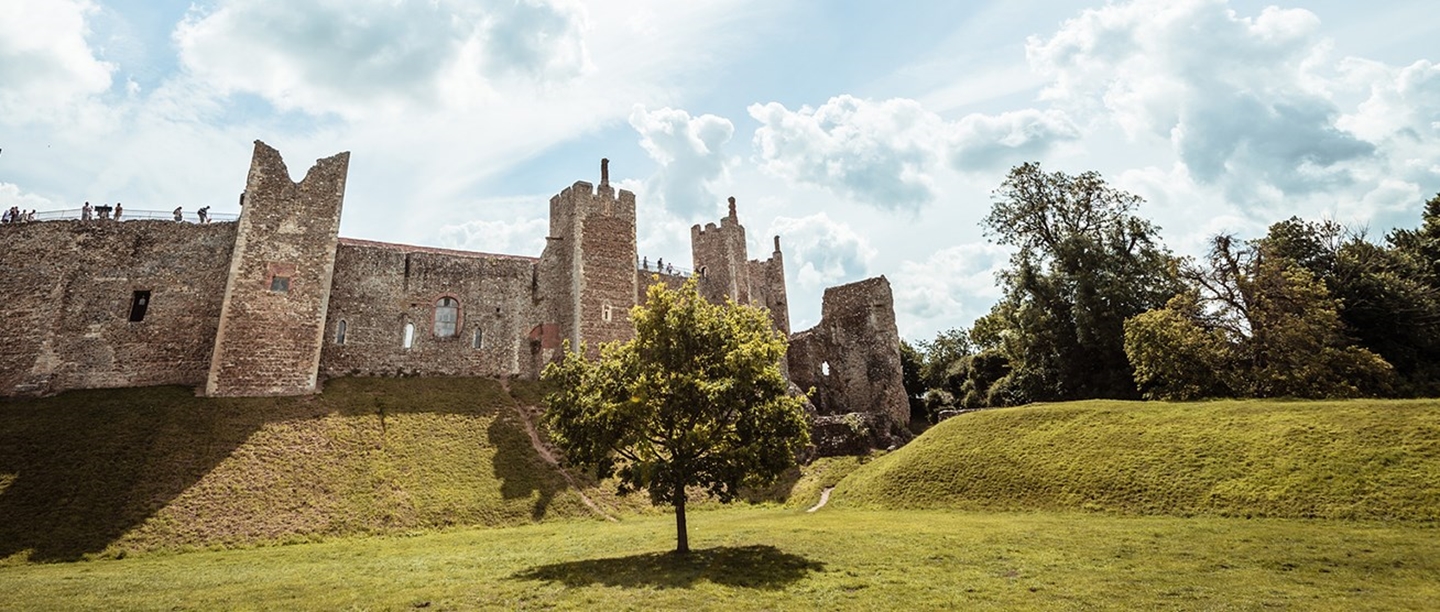 Spotlight on Framlingham Castle
Once at the centre of a vast network of power and influence, Framlingham Castle is one of the best preserved medieval castles in England. With its towers and curtain walls still standing proudly, it's here that you can explore almost 1000 years of history.
Scale the castle walls and step into the shoes of Mary Tudor, as you take in the stunning 360 degree views of the Suffolk countryside.
Why we love Framlingham Castle
"The walks around Framlingham Castle are incredible. The circular walk from the grounds of the castle on the lower court and around Framlingham mere are second to none. The castle is situated in such an idyllic town which still has local bakers and delicatessens - it's got such a lovely feel to it." Steve Bax, Historic Properties Director
"After recent research we've discovered that the workhouse here at Framlingham Castle is one of the oldest and most significant workhouses that still survives in England today. In exchange for some work, you would have been given some food and materials for you to carry out your work. It's these kind of stories that really bring history alive for me." Sarah Tatham, Interpretation Manager
"I am slightly biased, but Framlingham Castle is one of my favourites. It's so prominent in the landscape and town, which is beautiful in its own right, but then you've got this stunning castle with amazing views. It's very different to many of the places in the care of English Heritage, and it's this uniqueness that I love." Heather Redmond, Area Manager
What makes the castle special?
It feels like you are stepping back in time as you walk inside one of the best preserved Norman castles in England. It was built by the Bigods, a powerful Norman family in the 12th century and many important stories from history have playing out within the castle walls.
It was here that Mary Tudor received the news that she had been proclaimed the first official queen of England, but as well as being fit for royalty; the castle also became a workhouse for the poor families of Framlingham in the 17th century.
A new exhibition at the site introduces you to the people that have lived and worked at the 'castle on the hill' throughout history, and even gives you a chance to try on some of their historical headwear.
Take a closer look
We've recently invested £1.2 million in improvements to the castle, such as preserving the curtain wall and using heritage skills to repair the stonework for future generations to enjoy.
You can now walk along the mezzanine floor in the castle's workhouse, where our new exhibition explores the lives of former residents such as Mary Tudor.
Make sure to head into our new café, serving up delicious locally sourced produce inspired by the Tudors - ever wanted to try pottage?
Find out more
Things to look out for
Make sure you head out onto the wall walk and enjoy views fit for royalty.
Suffolk Grumbly anyone? We're sure you'll enjoy this tasty sausage and cheese dish inspired by the local area in our newly open café. We also have plenty of vegetarian options available.
The castle's Tudor chimneys each have their own unique decorations and elaborate patterns. Can you spot all of them?