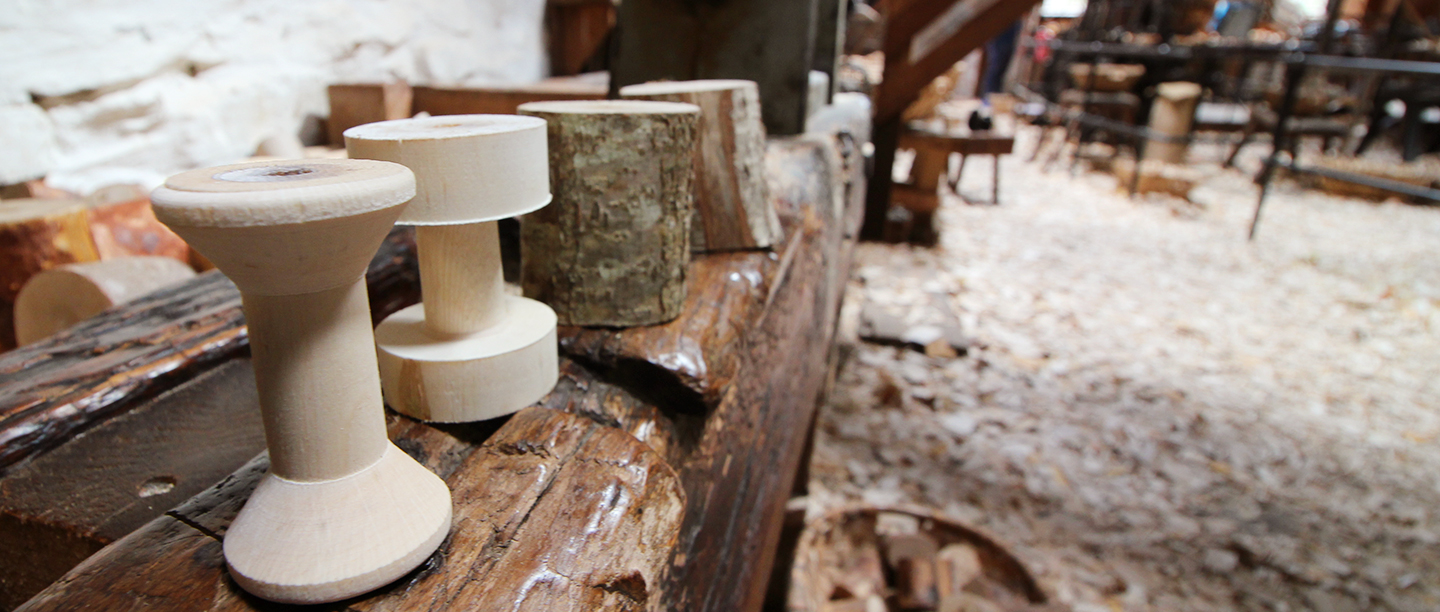 Spotlight on Stott Park Bobbin Mill
On the western shores of Windermere is one of the last places where you can see technology from the Industrial Revolution in action - Stott Park Bobbin Mill.
This pocket-sized powerhouse once supplied millions of wooden bobbins to the great factories of Lancashire and Yorkshire. Imagine shavings flying, machines whirring, the chug of a steam engine, sawdust settling at the end of the day.
Discover how different this site is from our other properties, and why we think you should plan a visit to the Lake District.
why we love Stott Park Bobbin Mill
"Stott Park Bobbin Mill is very different to other English Heritage sites. It's completely unique - I think that's why it's so special to me." - Mick Callaghan, Site Manager at Stott Park Bobbin Mill
"Before we came, I thought 'oh, this will be quite nice...' I wasn't expecting it to be as good as it is. This place is amazing! It's definitely my favourite English Heritage site." - Dennie van Dolder, visitor in April 2017
Plan your visit
Take a closer look: traditional process
Managing woodland is an ancient skill. Today, Tracy Shaw is responsible for coppicing the woods that surround Stott Park Bobbin Mill, managing the supply of coppiced timber, and preparing it to be turned into bobbins when you visit. Each log is "blazed" - which means small strips of bark are shaved off each short pole so that it dries out more quickly and evenly.
Since 1941, when electricity was installed so that the bobbin mill could contribute to the war effort, Stott Park Bobbin Mill hasn't had to rely on water power to run the line shaft. But, we still have a boiler and the old steam engine.
Nowadays we stoke it up on the first weekend of the month. Tracy maintains these too. It was a very traditional apprenticeship - watching the fire for hours before being allowed to start stoking the boiler. Come along to one of the monthly Steam Weekends and find out more about this, and the other traditional processes that we use at the mill.
Events at Stott Park
What makes Stott Park Bobbin Mill special?
It was the first purpose built bobbin mill in the Lake District and now it's probably the only working bobbin mill left in the world. What makes Stott Park really special is the fact that you can see a bobbin being made every time you go around.
As the site team guide you through the workshops, they switch on the machines and show you the processes which churned out millions of bobbins in the mill's heyday. The workshop floor is covered in shavings, oil gleams in the cogs and gears, and you can watch sawdust settle through brilliant shafts of sunlight. It really feels like the men who worked here a hundred years ago have just left.
Three things to look out for on your visit
The variety of things "turned" in the mill. The mill produced over 260 different types of bobbins but that is not the only things they manufactured. Step into the children's dressing up room, which is next to the old saw bench outside, and you will see a list of all the different items that were produced at Stott Park including duffle coat toggles, rope ladder rungs and hand grenade handles.
Upstairs there's a bottle of shellac. Nowadays it's used in nail varnish, but it was used to varnish the big three-piece bobbins. There's a story that, because the fumes were so intoxicating, the workers only used it for the last hour of the day… and that's where we get the phrase 'Happy Hour' from.
Bob's Adventure. Follw the kids' trail around the site. It uses special bobbins to create a quiz about the mill and its surroundings. Turn the handle to reveal an answer and collect a letter - once you've spelled out a word, you can claim your prize.
Conservation in action
With help from our team of volunteers, we've started the conservation and restoration of the old travelling saw and are making a new footbridge across our stream. You can see what we're up to and chat to the team when you come and visit.
Stay up to date on Facebook