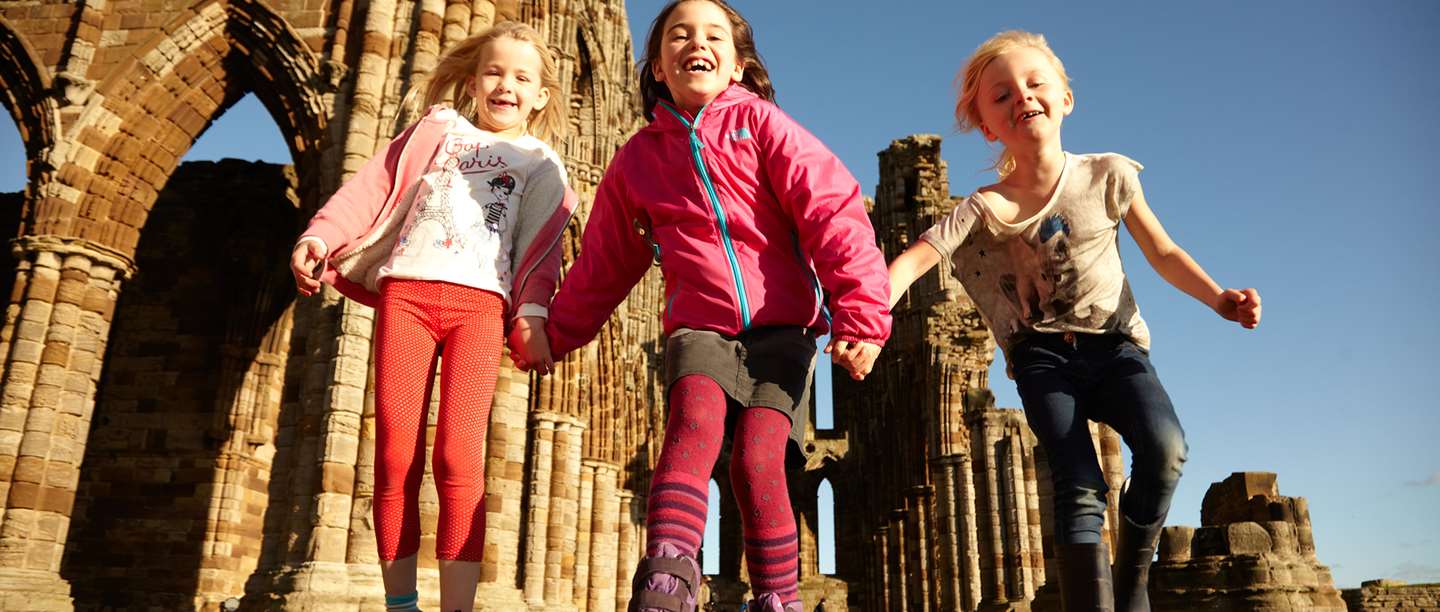 Whitby Abbey Family Guide
Whitby Abbey has plenty for everyone to enjoy. Unlock its hidden history on our new Ammonite Quest, pick a spot for a picnic and enjoy the stunning views over the sea and Whitby town while the kids play hide and seek among the ruins.
Family Essentials
Food and drink: The new coffee shop in the gatehouse will be serving a variety of drinks and light snacks. If you'd rather bring your own lunch, the abbey's the perfect place for a picnic.
Toilets: Toilets, including baby changing facilities, are located in the visitor centre.
Dogs: Feel free to bring along well-behaved dogs on short leads. Assistance dogs are welcome too.
Parking: A pay and display car park operated by Scarborough Borough Council is located 100 metres from the entrance. Accessible parking is available. The abbey can also be accessed by climbing the 199 steps from Whitby town centre.
Access: There is a paved pathway from the car park to the visitor entrance, and most of the abbey ground is flat and buggy friendly. Some of the ground might be uneven, so we'd recommend sturdy footwear.
Plan you visit
EXPERIENCE THE STORY OF DRACULA
Polish your fangs and imagine yourself back in the time of Dracula in the very place that inspired the story. Get involved in our interactive Dracula performance during the holidays, or sink your teeth into any of the other activity packed family-friendly events in our year-round programme.
Find an event
Go on the Ammonite Quest
As legend has it, the headland at Whitby was infested by snakes until a nun called Hild came to build her monastery. Fearlessly, Hild slayed the snakes and threw them off the cliff, turning them miraculously into stone. Today these snakestones are best known as ammonites, and many can be found in and along the cliffs at Whitby.
Guided by an ammonite, you can now take your family on The Ammonite Quest around the abbey as you discover its hidden history. Collect your ammonite device, download the free Live Beacon App (using the visitor centre's free Wi-Fi) and get questing. The ammonite will light up as you explore the site and discover Whitby Abbey's hidden history through some of the objects and lost buildings that people once used.
Top things to do
Dracula leapt up the 199 steps to the abbey disguised as a black dog – follow in his footsteps when you visit. Make sure you count them all and don't forget to howl!
Have a relaxing picnic out on the headland.
Play hide and seek among the abbey ruins.
Grab your wooden sword and travel back in time to the 9th century, when the Vikings raided the town and its wealthy abbey.
Things to see and do