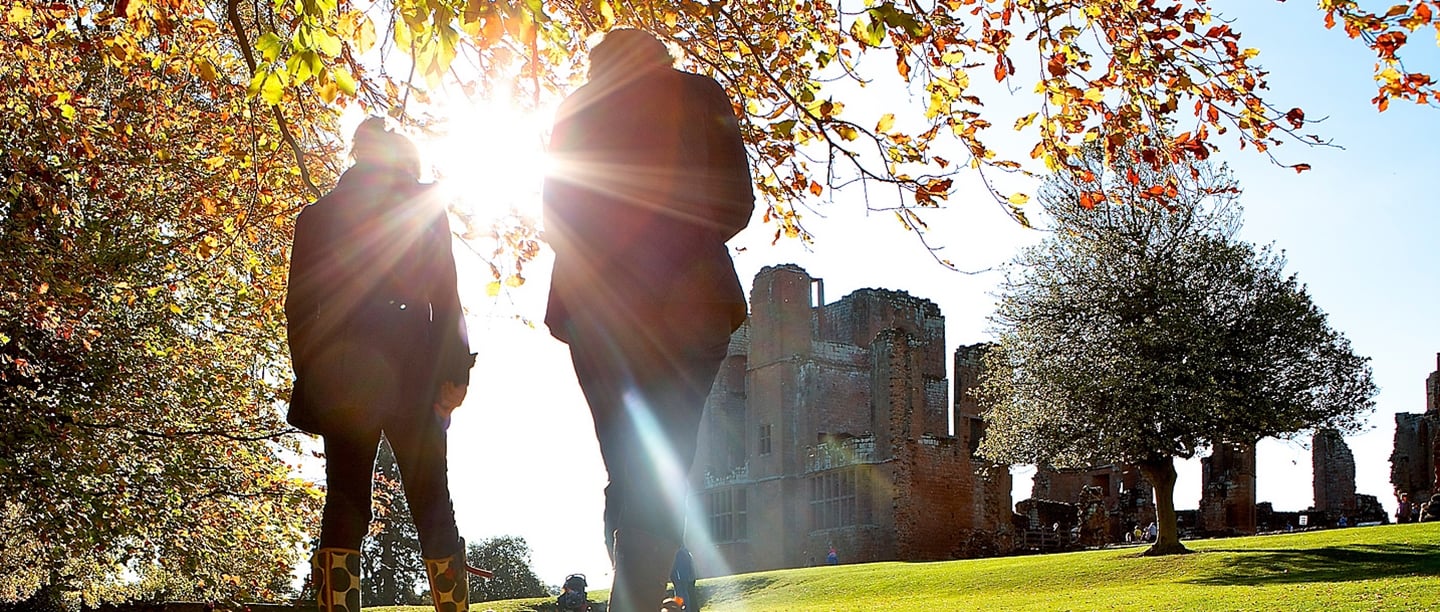 Autumn Days Out 2023
Discover England's amazing past in all its autumnal glory. Explore castles and abbeys nestled in golden woodland, see country houses swathed in morning mist and wander through historic gardens ablaze with spectacular seasonal colour.
With hundreds of sites across the country waiting to be discovered, autumn is the perfect time to make the most of our past.
Historic Gardens
The historic gardens in our care are among the finest in the country.
As the weather cools, our gardens transition into a vibrant autumnal colour palette of yellow, orange and brown. Keep cosy and enjoy wandering through our historic gardens where you'll discover the stories behind our leafy woodlands, decorative flower beds and seasonal kitchen produce.
Visit our gardens
Discover our historic gardens
Historical Autumn Traditions
The beginning of autumn has been a cornerstone of the northern European calendar heralding an important season for food, feasting and festivities. Find out how and why we come together in autumn and discover the stories behind harvests, hauntings and fiery nights.
How many have you heard of?
Discover more
Autumn Treats with Mrs Crocombe
How to Harvest Apples - The Victorian Way

How to Make English Chutnee – The Victorian Way

How to Make Soup for the Poor – The Victorian Way
Exploring our autumn traditions
As the nights draw in and the leaves start to turn, we're joined by English Heritage trustee and Professor of History at the University of Bristol Ronald Hutton, to discuss some of the traditions that come with autumn. Discover the history behind Bonfire Night and Halloween, along with less well-known events such as Harvest Home and Lammas – and the origins of the word 'autumn' itself.
Regional Guides

From London to Northumberland, Yorkshire and Derbyshire to the Isle of Wight, our comprehensive travel guides have everything you need to plan a getaway: where to stay, getting around and — most importantly — things to see and do.

Cycling Guides

Whether you're a novice or bike enthusiast, our cycling guides offer a fun way to take in multiple historic places. Wheel your way across the Isle of Wight, find serenity in North Yorkshire, or tour across the Wiltshire countryside.

Coastal Walks

Enjoy the great outdoors. Combine an invigorating seaside stroll with an inspiring visit to one of our historic sites, following these glorious routes along England's most beautiful coastlines.
Top Tearooms
Now is the perfect time to enjoy some well-deserved time off for yourselves. There's no better way to relax than with a hot drink or delicious snack at a tea room amid historic surroundings. To help you find the perfect place to get off your feet, here's our list of top tearooms from historic places around the country.
Discover our top tearooms