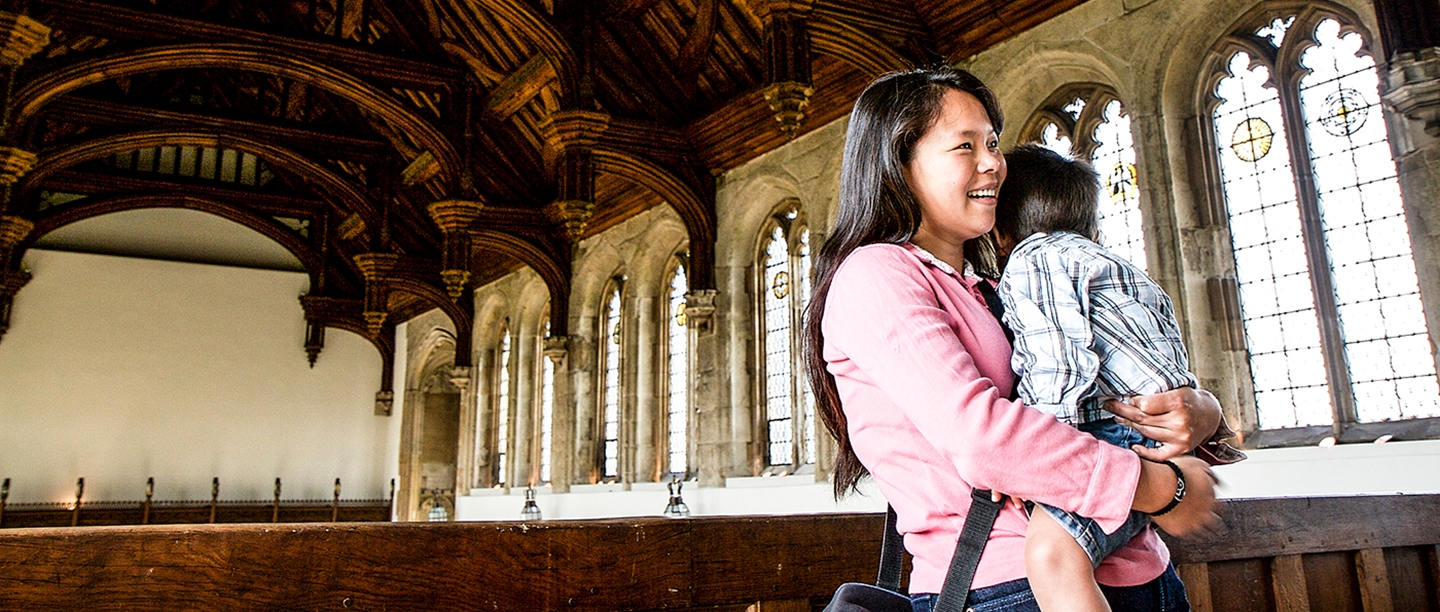 ELTHAM PALACE AND GARDENS - FAMILY PROPERTY GUIDE
Combining medieval hall with vast 1930s mansion, there's lots for kids to explore at Eltham Palace. Discover the Map Room where the couple planned their extensive global travels, and keep your eyes peeled for Mah-Jongg the resident lemur. With countless rooms, expansive gardens and a unique travel-themed play area to enjoy, Eltham is a treasure trove of fun and discovery just a stone's throw from central London.
FAMILY ESSENTIALS
Food and drink: The light and spacious greenhouse café in the new visitor centre offers tasty lunches, treats as well as hot and cold drinks. The adjacent play area is themed on the Courtaulds' travels, with a plane to fly and mountains to climb.
Toilets: There are accessible toilets and baby changing facilities on site.
Dogs: Dogs are not allowed, although assistance dogs are welcome.
Parking: A large car park just off Court Road has plenty of spaces for cars and allocated spots for disabled visitors. Use postcode SE9 5NP with your satnav.
See Opening Times
TRAVEL THEMED PLAY AREA
Alongside the spacious grounds and gardens, the play area at the visitor centre is a great place for the kids to let off steam. Themed on the Courtaulds' exotic adventures, there is a plane to fly, castle to conquer, and even mountains to climb. The greenhouse café sits adjacent, serving a range of treats, so grownups can sit in comfort while the children play.
Plan your visit
STEP INTO THE 1930S
There's something for kids and adults alike at Eltham Palace, home of the glamorous Courtaulds. Explore the couple's luxurious bedrooms, winding hallways and the impressive Entrance Hall. Take a tour of the basement with its billiard room and photographic darkroom, which Stephen and Virginia used as a wartime bunker during the Blitz.
Make sure to pick up our free interactive audio tour when you arrive. Choose from an adult tour or specific family tour, playing touch-screen games and hearing from 1930s characters about the Courtaulds' infamous parties.
HISTORY HUNT
Mah-Jongg: Keep your eyes peeled for Mah-Jongg, Stephen and Virginia Courtald's ring-tailed lemur who resided with them at Eltham. You might spot him in his cage upstairs, and even in the details of decoration in some of the rooms.
The Map Room: See the Map Room where the globetrotting Courtaulds planned their travels. The walls are covered with detailed maps and beautiful murals newly uncovered in 2015.
Medieval Great Hall: One step is all it takes to travel 500 years back in time, from modern Art Deco mansion to medieval palace. The Great Hall features a glorious hammer-beam roof built for Edward IV, and the kids will feel like kings and queens in this church-like space.
Family Days Out
Discover more great places to visit across the country with the kids this season, from mighty Norman castles to atmospheric abbeys.