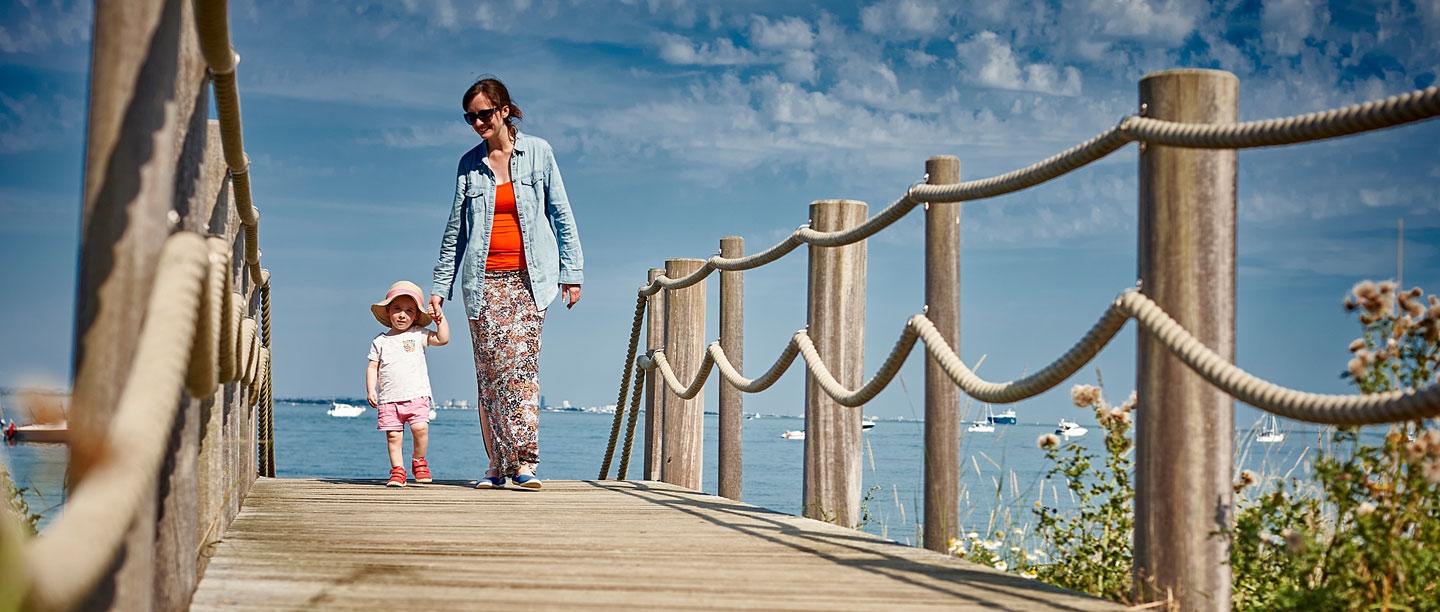 Families at Osborne
Ever since Victoria and Albert's own princes and princesses played here, Osborne has been a special place of fun and freedom for children and families. Stretch your legs and imaginations on a day out at this exquisite palace by the sea. There's plenty to see and do, and lots of places to play. With mini buses to help you get around, and places to eat throughout the site, you won't need to worry about tired legs or hungry little ones either.
Family Essentials
Food and Drink: Located on the beach, at the Swiss Cottage and at the Petty Officers Quarters, our three cafés serve hot drinks and ice cream as well as lunches and snacks. You can also visit the elegant Terrace Restaurant for lunches and afternoon teas. Highchairs and child-sized portions are available at various locations. Check our food and drink page for details.
Toilets: Toilets and baby changing facilities are available at the admissions centre, the house, Swiss Cottage and beach café.
Dogs: Dogs are welcome in selected areas within the grounds. Our Dog Friendly Osborne page offers a map.
Parking: Extensive free parking is available near the house entrance.
Access: Pushchairs are permitted everywhere except within the house and baby carriers or slings are also available. Osborne is a large site, but taking a young family around the estate is easy with mini-buses to both the beach and Swiss Cottage.
See current opening times
Things to do
Discover the Swiss Cottage Museum: Find out more about how the nine royal children lived and played at Osborne in an interactive exhibition, and see where they planted their gardens.
Paddle at Victoria's private beach: Part shingle and part sand, its gentle slope into the sea makes it ideal for paddling and swimming. It's also a great place for parents to relax and soak up the stunning views of the yachts and ships in the Solent across to the mainland.
Take one of our free children's trails: Trails for children are available during school holidays. Noble, one of Queen Victoria's favourite pets has lost the queen's gloves - can you find them using the clues around the house?
Laugh out loud with Punch and Judy: Every day in August you can enjoy seaside fun from a bygone era, with 1850s Punch and Judy shows, games of quoits, skittles and other traditional Victorian activities. There are larger family events to look forward to as well.
Places to Play
Wide, open spaces to roam and glorious woodlands to explore offer children plenty of room to run and play. You'll also find a play area near the visitor car park, perfect for letting off some steam upon arrival. A second play area is available at Swiss Cottage. From here, don't miss the chance to explore the nearby 'Victoria Fort', a miniature barracks built by Prince Edward and Prince Alfred as a birthday surprise for Victoria. Afterwards, if you've got extra energy, you can also follow the nature trail through the woods, and try to spot a red squirrel.
Plan your Visit