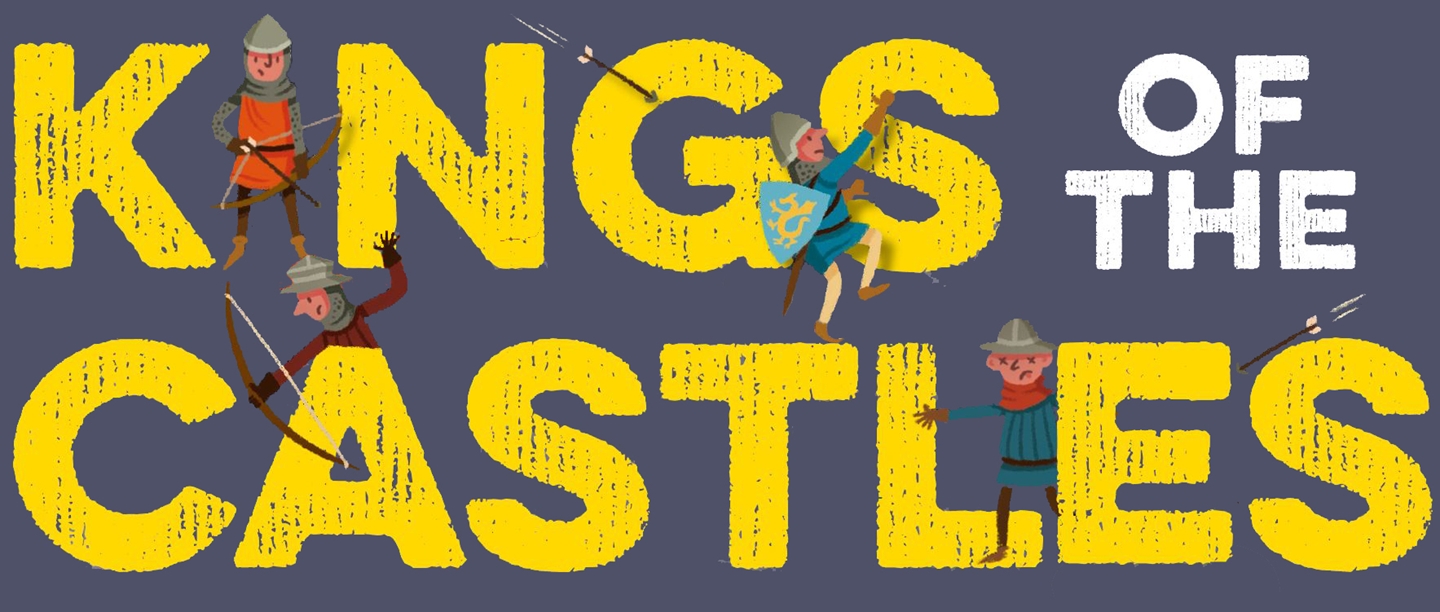 Introducing five of the best English Heritage castles, their royal romances, bloody battles and lords and ladies! Read about these five fortresses, have a go at our quiz questions, then test your castle knowledge with our Eye Spy match activity at the bottom of this page.
Top tip: find the answers to the quiz questions on our castle pages, then check them at the bottom of our fact files. Can you get all five right?
1. Warkworth Castle
Where? Northumberland
What? Warkworth Castle is surrounded by a river on three sides, giving it very strong defences. It was built in the 12th century and when Edward I started a war with Scotland it meant trouble for Warkworth. It was attacked twice in 1327 but the castle's soldiers were able to defend it. The king owned the castle for a while before giving it to Henry de Percy. His family were some of the most powerful people in northern England.
DID YOU KNOW? The Percy family carved a picture of a lion into the side of the keep at Warkworth Castle
QUIZ: What shape is the keep of Warkworth Castle?
Visit this castle!
2. Dover Castle
Where? Kent
What? William the Conqueror founded Dover Castle in 1066 to help control the coast of England and, more than 100 years later, Henry II rebuilt the castle. It was fantastically expensive and included an enormous great tower with rooms for the king to stay in. The castle was besieged in 1067, 1216 and 1265. There are tunnels underneath the castle and, because it is on the coast, the castle played an important part in protecting the south right up to the Second World War.
DID YOU KNOW? Dover Castle has a Roman lighthouse
QUIZ: Which famous stretch of water does Dover Castle look out over?
Visit this castle!
3. Carisbrooke Castle
Where? Isle of Wight
What? Carisbrooke was built over several centuries. It was started shortly after the Norman Conquest and more than 200 years later Countess Isabella de Fortibus rebuilt the inside. During the Hundred Years' War between England and France the Isle of Wight was attacked five times. The castle was even used as a prison for Charles I in 1647.
DID YOU KNOW? King Charles I tried to escape from the castle but got stuck in the window!
QUIZ: Jack, Jill, Jigsaw and Juno are the names of Carisbrooke's famous animal residents - but what type of animal are they?
Visit this castle!
4. Middleham Castle
Where? North Yorkshire
What? Middleham Castle is one of England's great castles: its oldest part, the keep, dates all the way back to the end of the 12th century. Like nearby Bowes and Richmond castles, it was probably built to guard the Yorkshire Dales from Scottish attacks. It was the home of several important families in its history. The Nevilles, key figures in the Wars of the Roses in the 15th century, held it from around 1260, and it was also one of King Richard III's favourite homes.
DID YOU KNOW? The remains of an earlier castle, called William's Hill, are visible from the keep.
QUIZ: Which famous English king lived at Middleham Castle as a child?
Visit this castle!
5. Kenilworth Castle
Where? Warwickshire
What? Kenilworth Castle is a famously grand and luxurious castle and is set above a large lake ('mere') and hunting park. This was not simply a place for entertaining guests – in 1266 it saw one of England's longest sieges. Much of the castle was changed by John of Gaunt, while his grandson, Henry V, built a leisure pavilion above the mere. Elizabeth I's favourite nobleman, Robert Dudley, who was the Earl of Leicester, built a lavish garden for the queen's visit to Kenilworth in 1575.
DID YOU KNOW? In 1649 part of the keep was destroyed in the Civil War because it had once been owned by King Charles I.
QUIZ: Roughly how old is Kenilworth Castle?
Visit this castle!
Eye Spy
Can you match these castle parts to their names?