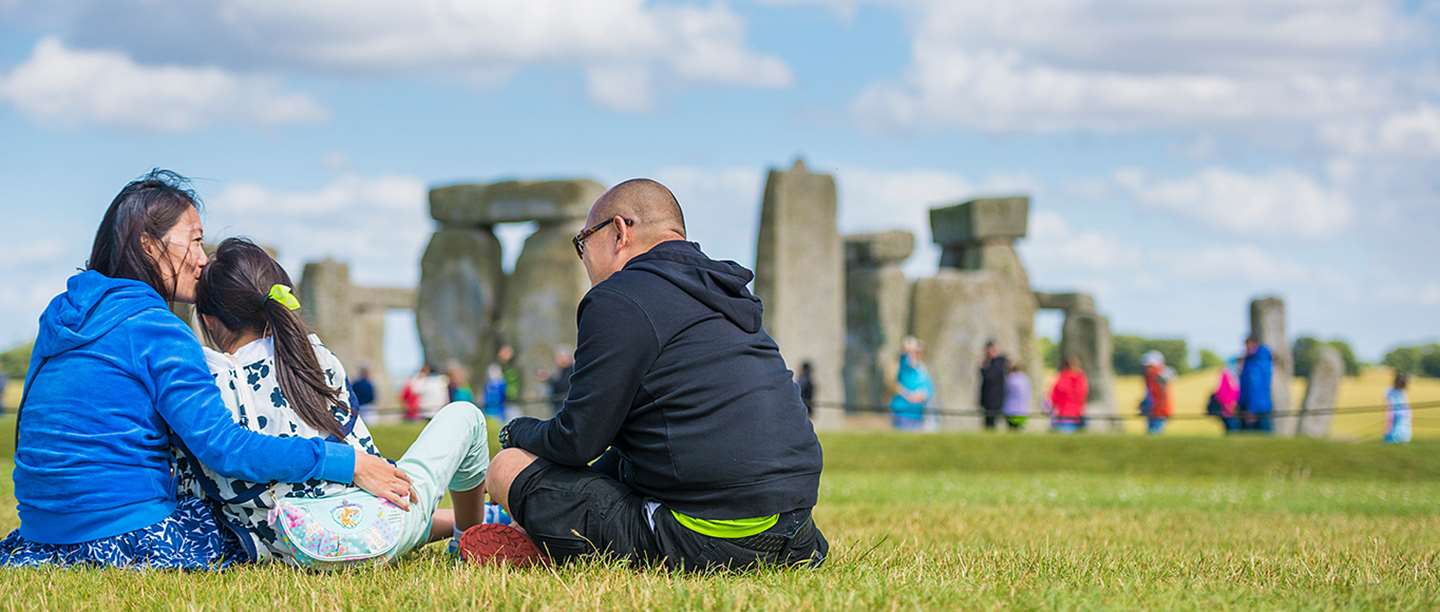 Stonehenge - Family Property Guide
The whole family can enjoy a day out at one of the world's most famous prehistoric monuments, Stonehenge. Stand in the ancient landscape to imagine life 5,000 years ago. Learn more about prehistoric life in the state-of-the-art visitor centre. Step inside reconstructed Neolithic houses where ancient people would have lived and slept. There's lots to enjoy for kids and adults alike at this World Heritage Site.
Family Essentials
Food and drink: The light and airy café is located in the visitor centre, and has lovely views to the west. The café serves hot and cold drinks, food and snacks (including delicious homemade rock cakes), and has plenty of seating including high chairs for the little ones. Bottle warming is also available.
Toilets: Male, female and accessible toilets are located in the visitor centre.
Dogs: Dogs are welcome on leads around the outside of the visitor centre, though only assistance dogs are allowed on the buses and in the monument field.
Parking: Plentiful parking is free to members and Stonehenge ticket holders, or £5 if not visiting the monument. Full details
See Opening Times
feat of prehistoric engineering
Kids will love exploring the ancient landscape around Stonehenge, and seeing just how big the famous stones are in person. In the visitor centre, exhibits let you explore the techniques of the monument's construction around 5,000 years ago. You can even test your strength by pulling one of the huge replica sarsen stone.
History of Stonehenge
Get hands-on at the Visitor Centre
Step into the visitor centre and discover the remarkable story of Stonehenge through an extensive interactive exhibition. Children can enjoy audio-visual displays, replica artefacts and tactile objects designed for all ages. Pick up an audio guide or children's activity pack when you arrive to enhance your visit to the exhibition.
Don't Miss
Neolithic man: The skeleton and lifelike reconstructed face of a Neolithic man can be seen in the main exhibiton.
Reconstructed houses: The reconstructed neolithic houses are cosy dwellings measuring five metres on each side, furnished with wooden and woven furniture. Speak to our volunteers to learn more about what life was like in Neolithic times.
Birds: Birds such a rooks and jackdaws can be seen nesting among the stones for much of the year. The feathered residents are very tame, and might even swoop down to say hello.
Plus, visit the nearby Salisbury Museum and Wiltshire Museum to learn more about the time of Stonehenge through amazing archaeological finds.
More things to see and do
Top 10 family days out

Take a look at our favourite historic places for families, chosen by our Facebook fans.

Family membership

Enjoy unlimited access to over 400 historic places across the country with family membership from £50.

Find a place to visit

Explore some of the 400 historic places that can be found across England.