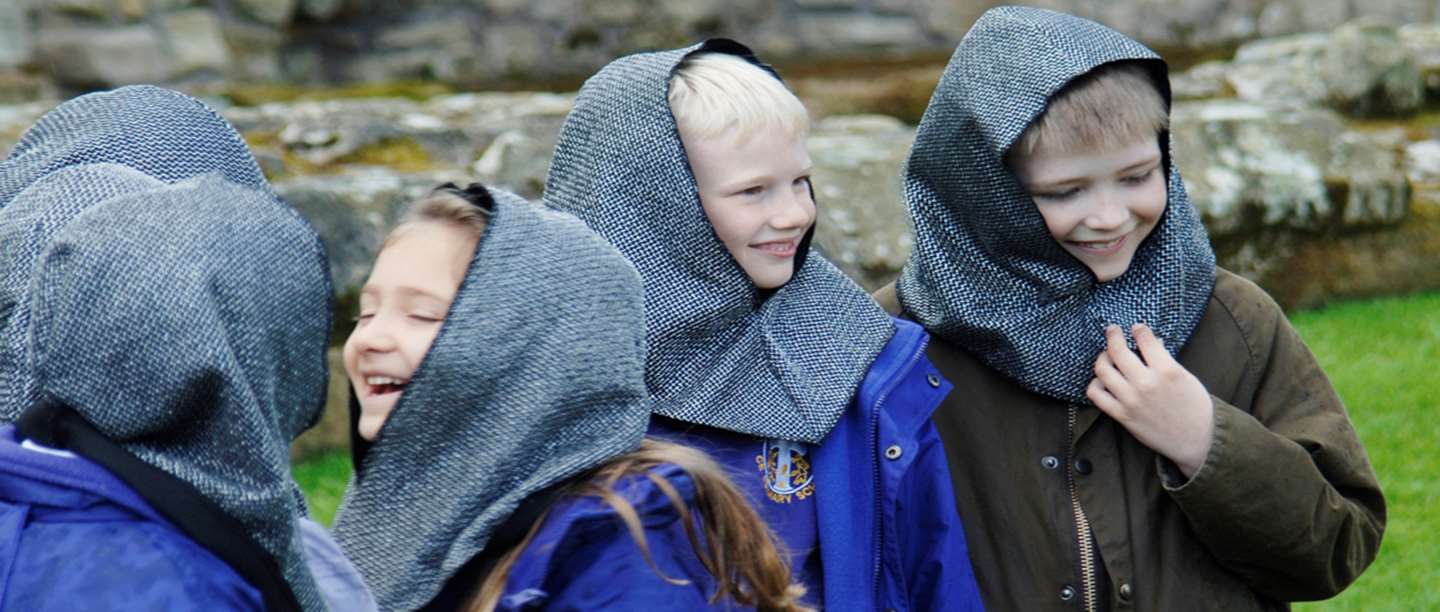 Schools
A school visit to Warkworth Castle is a unique experience. Once home to the powerful Percy family who now reside in Alnwick Castle, Warkworth was, and remains, one of the largest and most impressive fortresses in North East England. But what was life like for those living in a castle 600 years ago? With its rich and colourful history and magnificent cross shaped keep, your class can become a King or Queen for the day and explore the development of the castle from Medieval times to the present day.
Curriculum links
Key links to the curriculum at Warkworth Castle include:
KS1-3 History: Local History Study
KS1 History: Significant historical events, people and places in their own locality
KS2 History: Study of an aspect or theme in British history that extends pupils' chronological knowledge beyond 1066
KS3 History: The development of church, state and society in Britain 1066-1509 and 1509-1745
Free Self-Led Visits
We offer free entry to qualifying learning groups. Discover the history of Warkworth Castle on a free education visit, and lead it in your own way to fulfil your curriculum objectives. Explore the keep, almost intact after over 600 years, and look out for the lion badge of the Percy family. To make the most of your visit, download our free resources to help you plan lessons and your day at Warkworth Castle.
ENQUIRE NOW
Plan Your Trip
We have a wide range of materials to support your visit and make school trip planning easy. Download our free resources to help you make the most out of your visit and create unique learning experiences before, during and after your trip.
We also offer free planning visits for group leaders once you have made a booking. Our Education Booking Team is on hand to advise and help you create the best possible school trip to suit your needs and area of study.
Facilities

PARKING: Car park 30 metres from the castle entrance via gravel path, bridge slats and a step. Free coach parking is available for groups.
SHOP: Shop on site selling souvenirs that can help with learning back in the classroom. Space is limited, so please liase with staff on arrival.
RESOURCES: The Big Book of Castles resource. Please let us know if you would like a copy. 'Story Sacks' available to pre-book, to help groups to learn about castle life.
TOILETS: Male, female and disabled toilets available.
LUNCH: There are grassed areas available for picnics.
Learning Resources

These resources are free educational tools packed with everything you need to give your group a deep insight into the place you are visiting. Featuring historical information, site plans, suggestions for activities, and high-quality images, these resources are a comprehensive toolkit for group leaders of various subjects and key stages.


Discover Warkworth Castle using this interactive activity trail. The resource below includes helpful teacher notes and an A5 activity booklet for students.
How to book

0370 333 0606

Education Opening Times

March: Wednesday to Sunday 10.00 – 16.00
April to September: Monday to Sunday 10.00 – 18.00
October: Monday to Sunday 10.00 – 17.00
November: Friday to Sunday 10.00 – 16.00
December to February: Saturday and Sunday 10.00 – 16.00