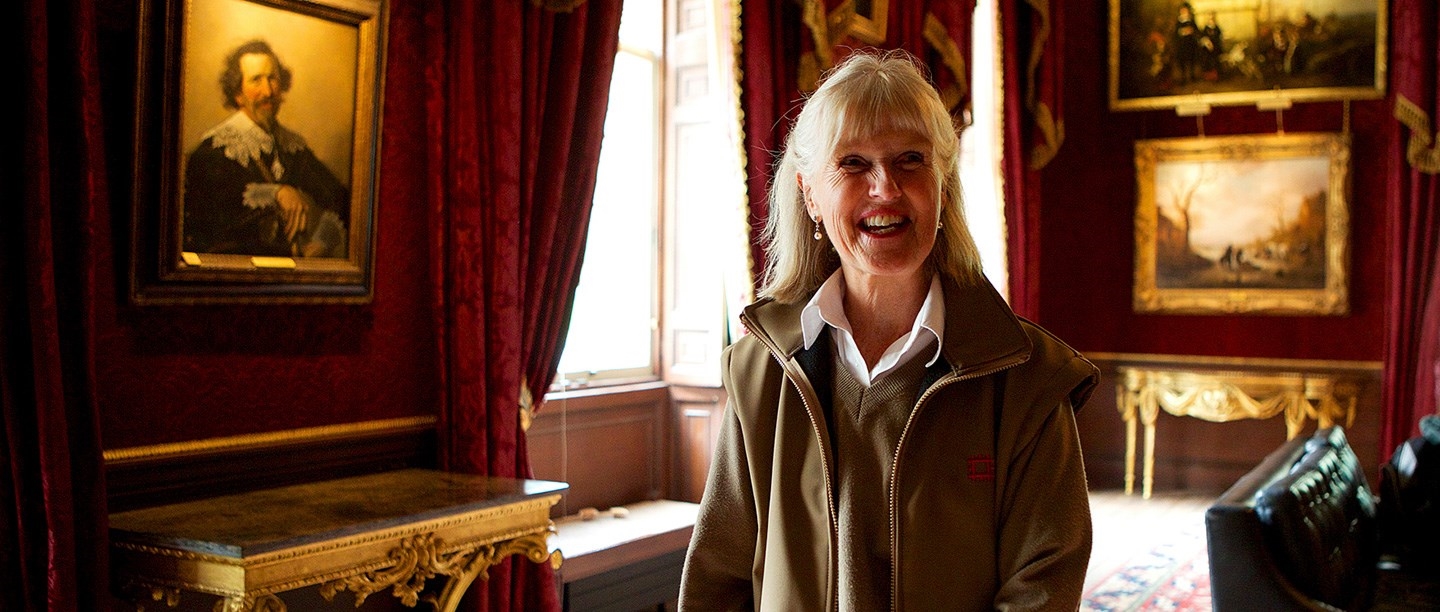 Spotlight on Kenwood
Far from the hustle and bustle of the capital on the edge of Hampstead Heath, Kenwood is one of London's lesser-known gems.
As well as being at the heart of the local community and supported by a dedicated team of volunteers, Kenwood entices visitors from further afield with its incredible art collection, tranquil grounds and unique design. It's also free to enter.
Discover Kenwood House
The Kenwood you see today was remodelled between 1764 and 1779 by Robert Adam, commissioned by Lord Mansfield. It's a masterpiece of innovative detail and architectural storytelling - from the entrance hall which doubled as the dining room, to the dramatic Great Library which was renovated as part of our recent restoration project.
Kenwood is home to the Iveagh Bequest, an extraordinary collection of artworks by Old Masters and British painters assembled by Edward Cecil Guinness, 1st Earl of Iveagh and left to the nation in 1927. Important pieces by Vermeer, Rembrandt, Gainsborough and Reynolds are hung in 'a fine example of the artistic home of an 18th-century gentleman.'
The house itself is set in a considerable estate, which provides some great walking - especially when combined with Hampstead Heath - and is very popular with local dog walkers. There are fantastic views over London too - St Paul's Cathedral, the Shard and Canary Wharf can all be seen from the grounds.
Explore Kenwood
Extraordinary Art
In 1925, Kenwood was bought by Edward Cecil Guinness, 1st Earl of Iveagh (1847-1927) - an immensely wealthy member of the famous brewing family, and a noted philanthropist as well as businessman. He used his business acumen to build up a fine collection of paintings by Old Masters, including notable Dutch pictures and portraits by Reynolds, Romney, and Gainsborough. This collection was left, with Kenwood, as a bequest to the nation when he died in 1927.
Important works include Vermeer's 'Guitar Player' - one of just 36 surviving paintings by the artist - a late portrait by Gainsborough of Mary, Countess Howe, and 'Portrait of the Artist' by Rembrandt van Rijn (pictured).
According to Collections Curator Jerzy Kierkuc-Bielinski, the Iveagh Bequest is one of the most significant collections in the country. Unusually for a collection with this scope, the works hang in a domestic setting which allows you to contemplate them in peace and comfort.
See part of the collection online
Did You Know?
Hanging by the window in the Breakfast Room is the portrait by Gainsborough of a Belgian-born inventor called John Joseph Merlin.
As well as inventing the 'gouty chair' - an early wheelchair (pictured) - he invented, with James Cox, a clock powered by atmospheric pressure, a kind of weighing scale and improved musical instruments.
He's also credited with inventing inline roller skates in 1760, and - according to Kenwood volunteer George - premiered his invention at a ball where he made a grand entrance into the ballroom by rolling in while playing the violin.
Unfortunately, he couldn't stop and crashed into a huge mirror, smashing it, his violin and his wrist in the process.
Dido Elizabeth Belle
Dido Elizabeth Belle was one of Lord Mansfield's great-nieces and, unusually for a mixed race girl in the late 1700s, was educated as a lady alongside her cousin. She is known to have acted as Lord Mansfield's secretary and this video (filmed at Kenwood before its refurbishment) tells some of her the story. The 2013 film Belle dramatised part of her life, and we delve into Dido's life after the events of the film on our blog.
Things to do in London

Hidden gems and highlights of things to do with English Heritage in London, including Apsley House, Wellington Arch and Eltham Palace.

Continuing Conservation

For the Kenwood estate to thrive, we need the help of those who love it. Discover how you can be part of the story of this historic site.

Dido Belle: What happened next?

Elizabeth Dido Belle is one of Kenwood's most interesting characters, and her life was dramatised in 2013.