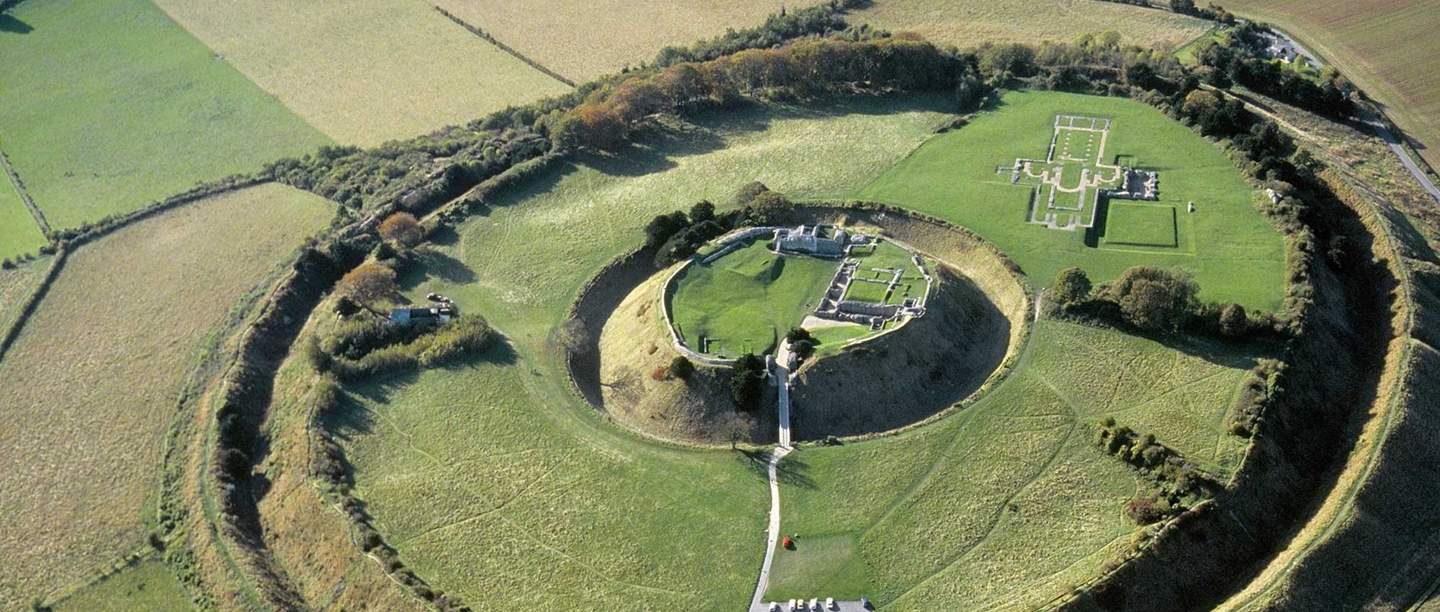 Spotlight on: Old Sarum
A sanctuary for the Magna Carta and prison of Eleanor of Aquitaine, with incredible views and exciting events, there's more to Old Sarum than meets the eye.
A Norman motte and bailey castle, built by William the Conqueror on the site of an iron age hillfort, Old Sarum is one of our most unusual historic places as it has been almost continuously settled over 5,000 years.
Explore Old Sarum
Stand on the spot where William the Conqueror stamped his dominance over South West England, peer into Eleanor of Aquitaine's prison and gaze out over Salisbury as you walk the ancient ramparts of the original iron-age hill fort.
Old Sarum castle might be in ruins, but there's still plenty to discover. The Norman motte and bailey castle was one of the first to be built after the conquest of 1066, and Old Sarum was a powerful site for royalty and the church for the next 150 years.
Wander through the foundations of the original, ill-fated, Salisbury Cathedrals – which briefly safeguarded a copy of the 1215 Magna Carta – and discover how life would have been lived in the castle throughout its long history.
Why do spiral staircases twist clockwise? How were the toilets put to more than one practical use in times of trouble? Who took the stones from the walls, and what is a 'rotten borough'? Find the answers at Old Sarum.
Uncovering History: Why Was Old Sarum Built Here?
Naomi Matthews, Old Sarum's site manager explains why William the Conqueror built Old Sarum castle after his victory in 1066.
"The Norman castle was built here up at Old Sarum for a few different reasons. It was one of the first castles built by William the Conqueror when he first gained control of England, and quite unusual because most of the time they built in new places rather than reuse something that had been there before. But Old Sarum is a fantastic viewpoint - you can see for miles and miles around.
These Norman castles were also a sign of power, so what William did was build a huge white castle on top of huge chalk-white iron-age banks - it would've been so visible from everywhere all around. It was basically William the Conqueror saying 'We're here and we are all powerful.'
Find out more about the history of Old Sarum
Did You Know?
Around Old Sarum, look out for blocks of stone carved with '1910' - these date to Sir William Hope's extenstive excavations between 1909 and 1919. Research is continuing at Old Sarum; the most recent work has concentrated on the areas outside the ramparts, and this unique site still has much more to tell us.
Discover the most recent research
Why We Love Old Sarum
"What I really like about Old Sarum is that it has such a broad range of history; there's some really great stories but it retains the feeling of being an undiscovered gem." - Olivia Robson, Historic Properties Supervisor
"It's got many layers, going from the iron age all the way up to the present day - but there's also all the nature too and the activities that happen up here now, and you can see it's a continuing thing - it's a living history." - Naomi Matthews, Site Manager
"Old Sarum is a really varied place to work, you never really do the same thing twice. You get some lovely crisp autumn and winter days with gorgeous views; and if it's a little bit foggy in the morning it makes you feel like you've been taken back in time." - Richard Dewdney, Retail Supervisor
Plan your visit
Become a Member

Join us today as an English Heritage member and discover over 400 historical places across the country.

What's Nearby?

Plan a visit to South West England and discover our historic places close to Old Sarum.

Discover the Story of England

From Prehistory to the modern era, step into England's story.