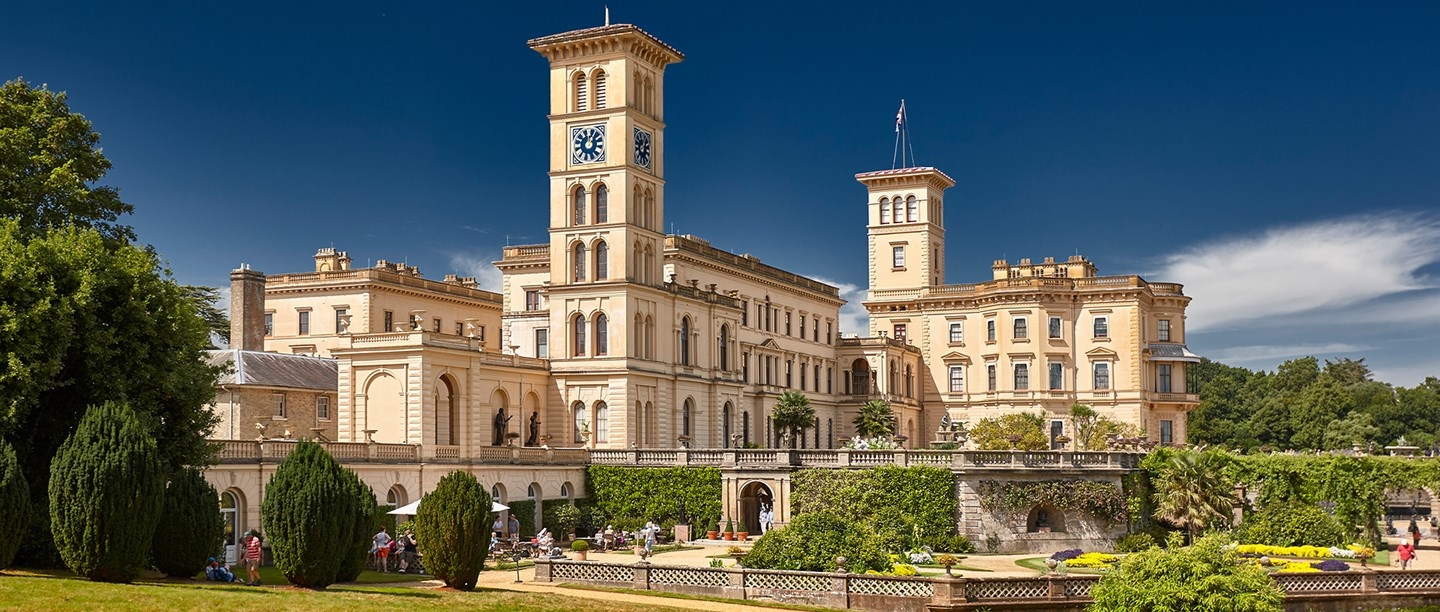 Spotlight on Osborne
Open the doors to the once private world of Queen Victoria and her family at Osborne. Victoria's holiday home remains largely untouched, providing intimate details of royal life during the 19th century. Dip your toes in the water of the queen's exclusive beach and explore the vast estate where Victorian garden parties were a regular occurance.
In her diary Victoria wrote that she 'could never be thankful enough to have got this place'. Now you can unlock Victoria's secrets and find out why.
What makes Osborne special?
Built and designed to Victoria and Albert's tastes in 1845, few English royal residences are as personal as Osborne. Explore the grand interior where family heirlooms highlight royal life in the home. You can even see the room where Victoria's daughter, Alice, married and the bedroom where the queen died.
Wander among the expansive grounds, gardens and terraces. Relax alongside the tranquil coastal setting of Victoria's private beach and admire views across the Solent to the English mainland. If the weather is warm enjoy an icecream from beachside cafe and stroll along the coast.
There's plenty to keep the children entertained including a visit to the ultimate 'cubby house', Swiss Cottage, a charming wooden chalet built by Albert for his own princes and princesses. At our special events you can even step back into the 19th century and meet Queen Victoria herself.
Visit Osborne
Postcard from Osborne
Experience Victoria's seaside home from new heights. Watch our Postcard from Osborne with spectacular drone footage flying around the property and across the Isle of Wight coastline.
Take a closer look: Durbar Wing
Although Empress of India, Victoria never visited the country, but her passion for Indian culture can clearly be seen today as you explore the Durbar Wing. Looking noticebly different from the Italianate features of the rest of the house, Victoria comissioned the wing in 1890-91. Look out for intricate detailing and mythological symbolism in the Durbar Room (pictured), an ornate dining room which includes a motif of the elephant god, Ganesh, above the door.
Follow the adjoining corridor and don't miss the gallery of Indian portraits. Victoria requested these paintings during the 1880s and one is of Abdul Karim - a favourite servant of Queen Victoria. Learn more about the man whose relationship with the queen inspired the upcoming film Victoria and Abdul, starring Dame Judi Dench.
Learn more about Victoria
Why we love Osborne
'Osborne is really the only place that one can get close to Queen Victoria and Prince Albert. Although there have been lots of changes, a lot of things are still the same like the landscape and the collection. I often think if Queen Victoria was to come back tomorrow, she would recognise Osborne.' Michael Hunter, curator at Osborne
'We came to the Isle of Wight because my wife had never been before and Osborne has been the highlight of our visit. There's a good amount of rooms available and the Indian room was superb.' Colin Neville, visitor to Osborne
'It's Victoria and Albert's family home and it shocks people how comfortable, how family-like it is. It's got big rooms, but it's homely. It's also just as they left it; we have had one family leaving their mark on this house and that's it. To think that Victoria sat on that chair or Albert stood by that window is amazing.' Annette Reynolds, volunteer
Discover Osborne's History
Three things to look out for
Victoria's bedroom: Rarely can visitors see the exact location where a monarch died, but at at Osborne you can see the room where Victoria passed away in 1901, preserved almost exactly as it was. Following Victoria's death, the room became a family shrine for some 50 years, complete with a bronze memorial plaque on the headboard. The room opened up to the public in 1955.
Ice House: Tucked away behind the house is an ice house built in 1846 that was used to store ice throughout the year and to prepare food. Think of it as a forerunner of the refrigerator, which wasn't invented until a few years later.
Swiss Cottage: Wander through the traditional Swiss-style farmhouse, built in 1853, where Albert and Victoria's children learnt to cook, were educated and entertained their parents. Explore the children's garden where they grew their own flowers, fruit and vegetables and then sold them to Albert at commercial rates to better understand the economy. You can also visit the museum that has housed their collections since 1862.
Live like a queen, stay at Osborne
Victoria enjoyed the solitude of Osborne - now you can too. Take a unique weekend break at one of our three holiday cottages. Wake up in the grounds that Victoria enjoyed in the 19th century and enjoy exclusive after-hours access to the gardens and beach.
Relax at No 1 and No 2 Sovereign's Gate, which has been transformed from Osborne's formal entrance into a modern getaway. Or, enjoy a drink on a period verandah at the Pavillion Cottage, situated on Victoria's former private cricket ground.
Find a cottage
Victoria in pictures
All images are © Historic England
More spotlights on places we love

Find out more about some of our favourite historic places in England.

Travel Guides

Discover new places across England with our inspirational travel guides.

Members get more

Enjoy unlimited days out for a whole year, plus free or discounted entry to a range of events. From just £43.